You may be thinking "Vitamin E? What else could I possibly need to know about this run-of-the-mill vitamin?"
Here's the scoop – even though you're a knowledgeable and experienced user of vitamins and supplements – chances are you haven't yet heard about "real" vitamin E.
Surprising as it sounds, what's generally been communicated about vitamin E isn't the full story.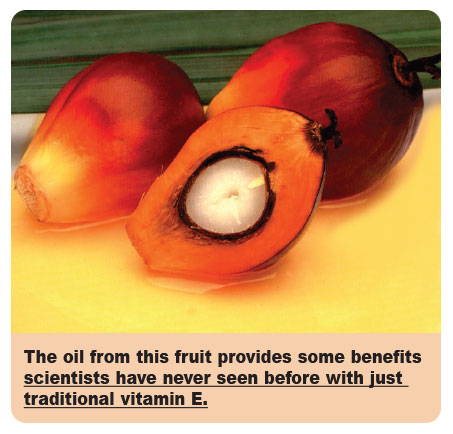 Most of us have come to think of vitamin E as the compound known as "alpha-tocopherol".
The reason alpha-tocopherol became synonymous with vitamin E is simple. Alpha-tocopherol is the form of vitamin E mainly found in the foods we eat in the United States (and hence what's most commonly used in dietary supplements).
However, the little known fact is vitamin E is actually a family of eight different naturally occurring chemical compounds that include…
…four tocopherols (alpha, beta, delta and gamma) and more important…
…four tocotrienols (alpha, beta, delta and gamma).
If you haven't heard of tocotrienols (pronounced "to-ko-try-enols"), don't worry…you have plenty of company.
Right off the bat, you'll be interested to know that scientific testing indicates the overlooked tocotrienols may offer some unique health benefits not seen with tocopherols, at least when taken as a supplement.
If alpha-tocopherol is your sole source of vitamin E, then you might be shortchanging your health!
You need REAL vitamin E, which includes all four tocotrienols as well as alpha tocopherol.

Typical Diet Doesn't Provide Nearly Enough Tocotrienols
One of the reasons tocotrienols have been largely ignored is because they're not easy to get from food – especially in Western diets.
The vegetable based oils we use are rich in tocopherols – but not the desired tocotrienols.
The small amount of tocotrienols we get from our diet come from eating grains like rye, barley and rice bran.
On the other side of the world, some Southeast Asian and Western African populations have a much larger intake of tocotrienols.
A key reason why is because of the widespread use of red palm oil in cooking.
The oil of red palm fruit yields one of the highest concentrations of tocotrienols currently found in nature.
Moreover, it naturally contains alpha-tocopherol and other beneficial nutrients like beta-carotene (which provides the red color tone).
In a nutshell, that's why tocotrienols from red palm oil are now getting so much attention.
Most encouraging, the scientific research suggests that tocotrienols can be a "game changer" – particularly when it comes to heart, brain and liver health, three of the most important organs in your body.
Much of this research was conducted with a particular brand, which is the only one we recommend taking…

The "Rolls Royce" of Tocotrienol Products…
If you want a quality, sustainable, non-GMO source of tocotrienols from red palm oil, you can get it from an innovative Malaysian company named ExcelVite, Inc.
Not only does ExcelVite make its products from the finest virgin red palm oil, ExcelVite developed and patented a natural delivery system that increases the absorption of tocotrienols into your blood stream significantly.
ExcelVite calls this ingredient EVNol SupraBio™ – and we believe it truly is the "Rolls Royce" of tocotrienol ingredients.
In fact, the National Institutes of Health (NIH), an agency of the U.S. Department of Health and Human Services, has funded a significant amount of EVNol SupraBio™ research.
In addition, the Government of Malaysia is also investing significant amounts to help ExcelVite fund research on EVNol SupraBio™.
The commitments from these government agencies illustrate the unique potential tocotrienols and EVNol SupraBio™ may offer for human health – this level of funding isn't easily obtained!
Others are taking notice too. EVNol SupraBio™ was named "Ingredient of The Year" by Nutrafiles, an independent market research company that specializes in health ingredients.
NatureCity® teamed up with ExcelVite® to bring you a product that features the award winning EVNol SupraBio™ ingredient.
In each serving, this product gives you real vitamin E – the full spectrum of health boosting tocotrienols along with natural alpha-tocopherol.
That's why we call it TrueE™.
Here's a summary of the impressive list of potential benefits you may enjoy from the EVNol SupraBio™ in TrueE™…

3-in-1 Artery and Cardiovascular Support!
One of the first key areas of research involving EVNol SupraBio™ was in heart and cardiovascular health.
Below are three ways TrueE™ may help you…

Maintain Artery Flexibility
Keeping your artery "pipes" flexible – and not stiff – is a key component of long term cardiovascular health.
Yet, even young and healthy adults can struggle to keep arteries elastic and flexible.
The good news is EVNol SupraBio™ may help.
In test subjects, taking EVNol SupraBio™ for two months resulted in two measures of artery flexibility showing significantly positive results.
Promote Blood Flow
To see the effect EVNol SupraBio™ has on blood flow, scientists working at the Kenneth Jordan Heart Foundation conducted a two year research study.
At the end of the study, significantly more of those taking EVNol SupraBio™ maintained blood flow, compared to the placebo group.
Maintain Healthy LDL Cholesterol Levels
You likely know that LDL cholesterol is also known as the "bad" cholesterol. LDL cholesterol is a villain because it tends to accumulate in your arteries.
And when LDL cholesterol deposits become oxidized…they can turn particularly harmful.
EVNol SupraBio™ may help you maintain healthy LDL cholesterol levels, and its antioxidant properties help support your body's defense against oxidation risk.
Can Tocotrienols Help Protect Brain Cells?
About 15 years ago in the labs of The Ohio State University Medical Center, a scientist made a remarkable discovery.
The scientist, Professor Chandan Sen, determined that alpha-tocotrienol appeared to protect brain cells from death when exposed to toxins that harm brain cells.
Separately, Professor Sen took brain cells that were damaged by the toxins and fed alpha-tocotrienol to them. Even though this was several hours after the damage occurred, these injured and dying cells made a recovery!
These results were exciting and Professor Sen noted that this protective effect occurred only with alpha-tocotrienol, and not with traditional vitamin E known as alpha-tocopherol.
This discovery caught the attention of the U.S. National Institutes of Health (NIH), and since then the NIH has funded much of the published domestic research on the protective effects of tocotrienols conducted by Professor Sen and his colleagues.
You should also know that Professor Sen has selected  EVNol SupraBio™ to use in all of his research – which we believe is a reflection of its quality.
Over the past two decades, Professor Sen has identified the five ways EVNol SupraBio™ acts to help protect brain cells.
Plus, he has found it only takes a relatively modest amount of tocotrienols to provide this protection.
Due to low levels of tocotrienols in our diet, taking a supplement with EVNol SupraBio™ daily is a good idea to support and protect brain health.
Help Protect Against Age Related White Matter Lesions
As we age, white matter lesions occur when brain blood vessels harden, leading to the death of nerve fibers.
These lesions are recognized as a predictor of future cognitive problems. As you'd expect, fewer white matter lesions are an indicator of better brain health.
Fortunately, modern technology allows scientists to take MRIs of the brain and use sophisticated software to measure the volume of white matter lesions.
In research published in a Journal of the American Heart Association, scientists found that EVNol SupraBio™ might help protect against white matter lesions as we age.
MRIs of the brain indicated that over two years, study participants taking EVNol SupraBio™  daily experienced much less white matter lesion development than those taking a placebo.
It's important to note that this type of brain health support had not been reported with alpha-tocopherol on its own – the addition of the tocotrienols are believed to have made the difference.
Give Your Liver a Helping Hand
Your liver plays a central role in the detoxification of your body and the maintenance of many metabolic processes such as hormone and cholesterol production, maintenance of healthy blood sugar and protein levels, and proper fat-soluble vitamin storage.
By taking TrueE™, you may be giving your liver a needed helping hand.
Researchers almost stumbled upon the liver health support of EVNol SupraBio™ by mistake.
By chance, researchers who were studying the brain health effects of EVNol SupraBio™ noticed an interesting side benefit – some subjects were seeing liver health improvements.
Subsequent research indicates that EVNol SupraBio™ may promote optimal liver function, and help you maintain normal liver enzymes levels and liver stiffness scores.
What's more, other research indicates that the combination of tocotrienols and alpha-tocopherol – like what you get with EVNol SupraBio™ – appears to be more beneficial for liver health than when tocotrienols and alpha-tocopherol are taken separately.
Don't Spend Another Day Without the Protection and Benefits of TrueE™!
According to the United States Department of Agriculture (USDA), approximately 90% of Americans do not consume the recommended daily allowance (RDA) of vitamin E.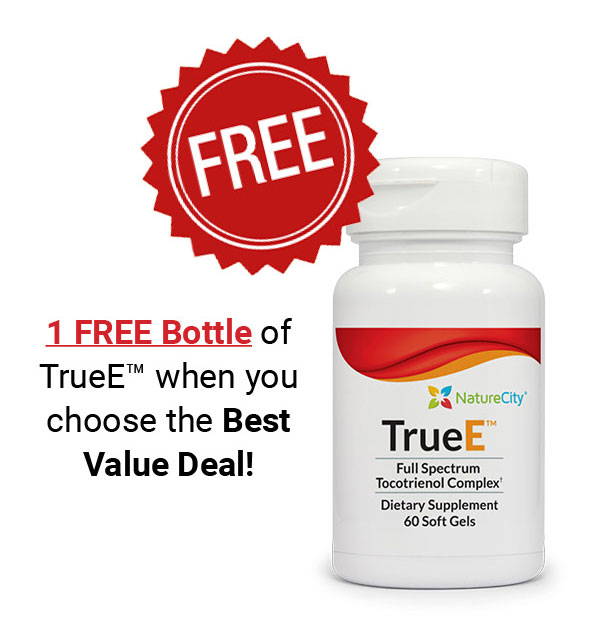 If that's the case, you can take it to the bank that many more Americans aren't getting an adequate amount of what we call real vitamin E, which includes all four tocotrienols.
And that is a shame given all of the wonderful things you've seen tocotrienols can do for your body to support good health.
The good news is you now know about TrueE™. Now is the time to act and kick your health into high gear.
With the enclosed offer, you can pay as little as $15.75 for a bottle of TrueE™, that's just $0.53 a serving, and collect up to 221 Rewards Club points too!

Just choose one of the offers below, or if you prefer, give us a call at 1-800-808-9803 and we'll rush TrueE™ to your home. Please act today!
Yours for Better Health,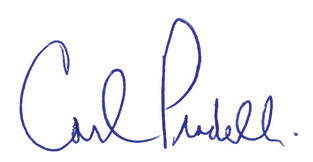 Carl Pradelli
      President & CEO