TrueAloe™ Special Offer 25% OFF Use Code TRY25NC At Checkout
TrueAloe™ Organic Aloe Vera Supplement
TrueAloe™ Only Has One Ingredient: Certified Organic Aloe Vera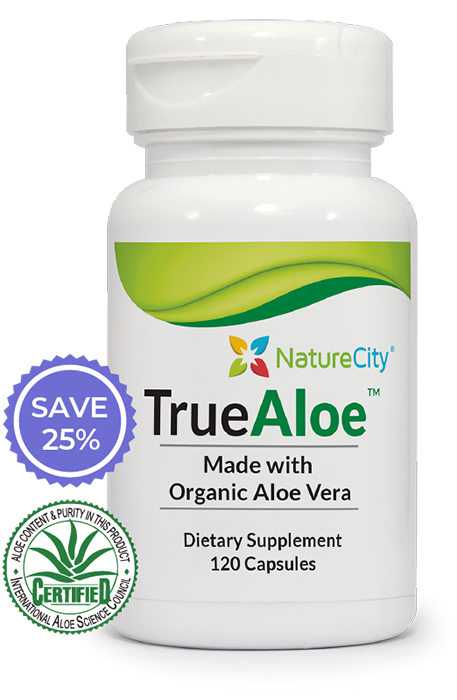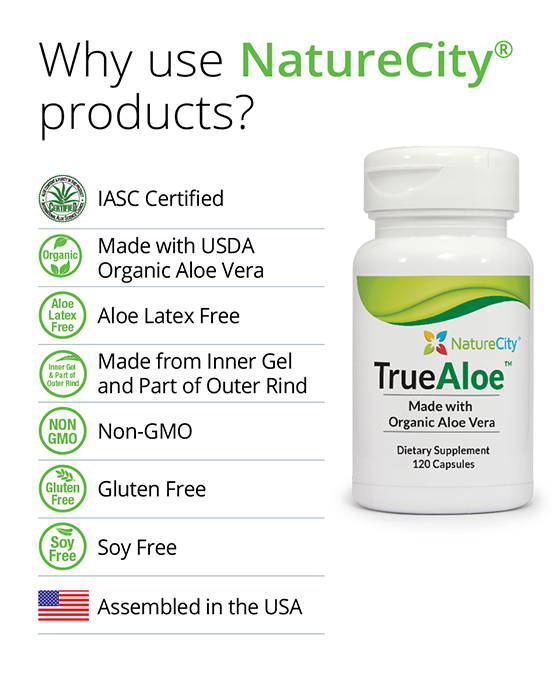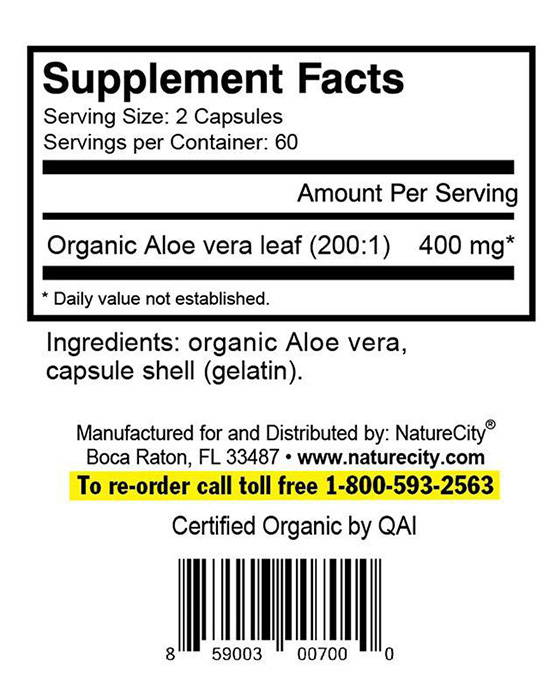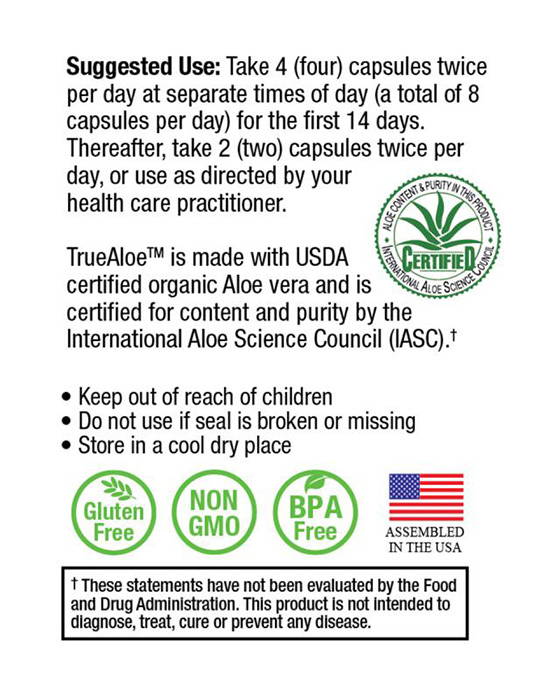 Servings per Container: 60 servings
Serving Size:  2 Capsules
Aloe: 400mg Aloe per Serving* (200:1)  
Availability:  IN STOCK
---
PURE ALOE VERA
200mg of certified organic Aloe vera per capsule, no fillers or additives

Certified for purity and content by the International Aloe Science Council (IASC)

Patented extraction method protects and preserves the valuable polysaccharides such as acemannan
HEALTH BENEFITS
Helps promote joint health, heart health and blood sugar health

Supports healthy digestion, helps soothe the stomach, and helps balance stomach acid levels
Use Code: TRY25NC at checkout
$24.97
$18.73
plus shipping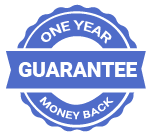 NatureCity believes in quality products for better health.
Our products are made with scientifically backed branded ingredients. No cheap substitutes. All purchases come with a ONE YEAR 100% money back guarantee.
---
Potent and nutrient rich Aloe vera helps promote a healthy inflammation response which helps support joint health so you can perform everyday activities more comfortably.
Aloe vera helps support digestion and soothes the stomach by helping to balanced acid levels. TrueAloe's Aloe vera leaves are hand processed, maximizing nutritional potency while being virtually free of undesirable anthraquinones (which have a strong laxative effect).*
The aloe is grown in southeast Mexico in a pristine location where the soil is rich in volcanic ash and irrigated by pure, clean rainwater and mountain springs. Aloe leaves that are three years old, at peak potency, are harvested and the inner gel and the desired parts of the nutrient rich outer rind are delicately extracted.
Nutrient Rich Aloe Vera Capsules
NatureCity Aloe vera capsules are filled with 200mg of certified organic Aloe vera and does not contain any fillers or additives. Certified for purity and content by the independent International Aloe Science Council (IASC). Each bottle contains 120 capsules.
---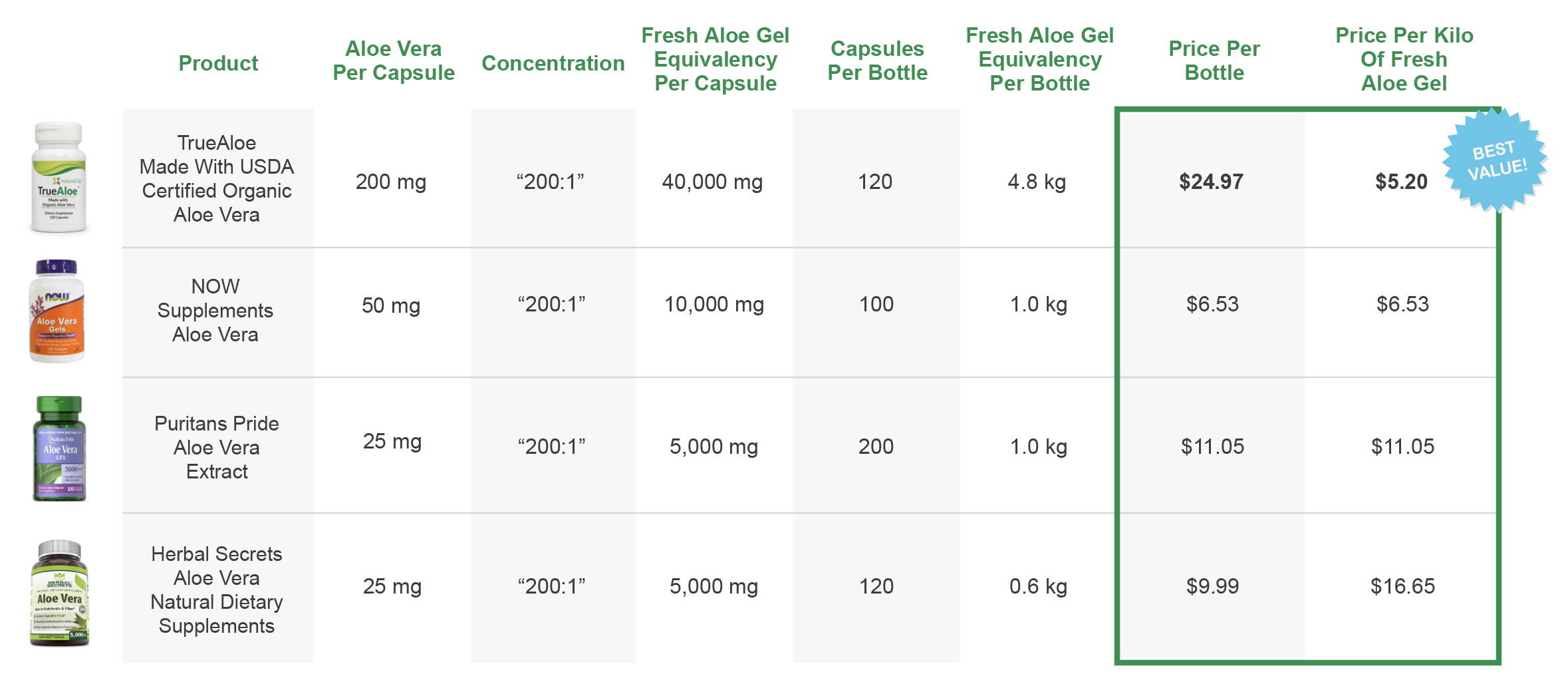 ---
TrueAsta features 6mg of premium quality Astaxanthin which uniquely protects both the outer and inner parts of cell membranes from harmful oxidative stress. In lab testing astaxanthin was shown to have 110 times more singlet oxygen quenching power than vitamin E, and 6,000 times more than vitamin C
---
AstaReal is the purest source of natural astaxanthin with benefits supported by numerous clinical studies. AstaReal pioneered a revolutionary indoor cultivation method at their production facility in Moses Lake, Washington to deliver the highest quality and most stable astaxanthin from haematococcus pluvialis algae.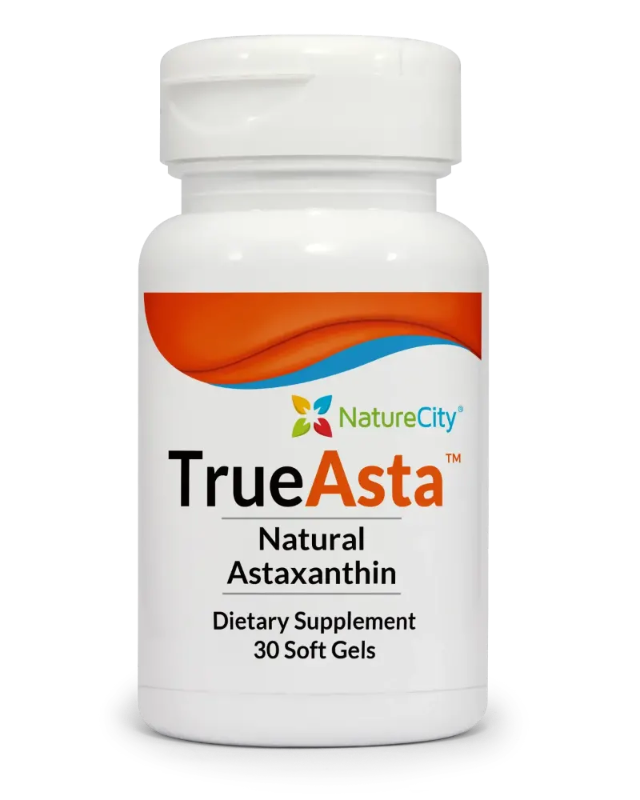 ENDURANCE AND PERFORMANCE SUPPORT
Natural Astaxanthin helps promote endurance and performance during both aerobic and anaerobic exercise by protecting cell mitochondria from damage. In addition, Astaxanthin neutralizes free radicals during exercise and continues to work after exercise to help reduce exercise induced soreness and assist in muscle recovery.
---
COGNITIVE HEALTH AND SKIN APPEARANCE  
Astaxanthin may reduce age-related forgetfulness and support spatial reasoning (when taking 12mg of natural astaxanthin per day). Astaxanthin also helps reduce the
appearance of fine lines and age spots, and protects the skin's collagen layer for healthier looking skin.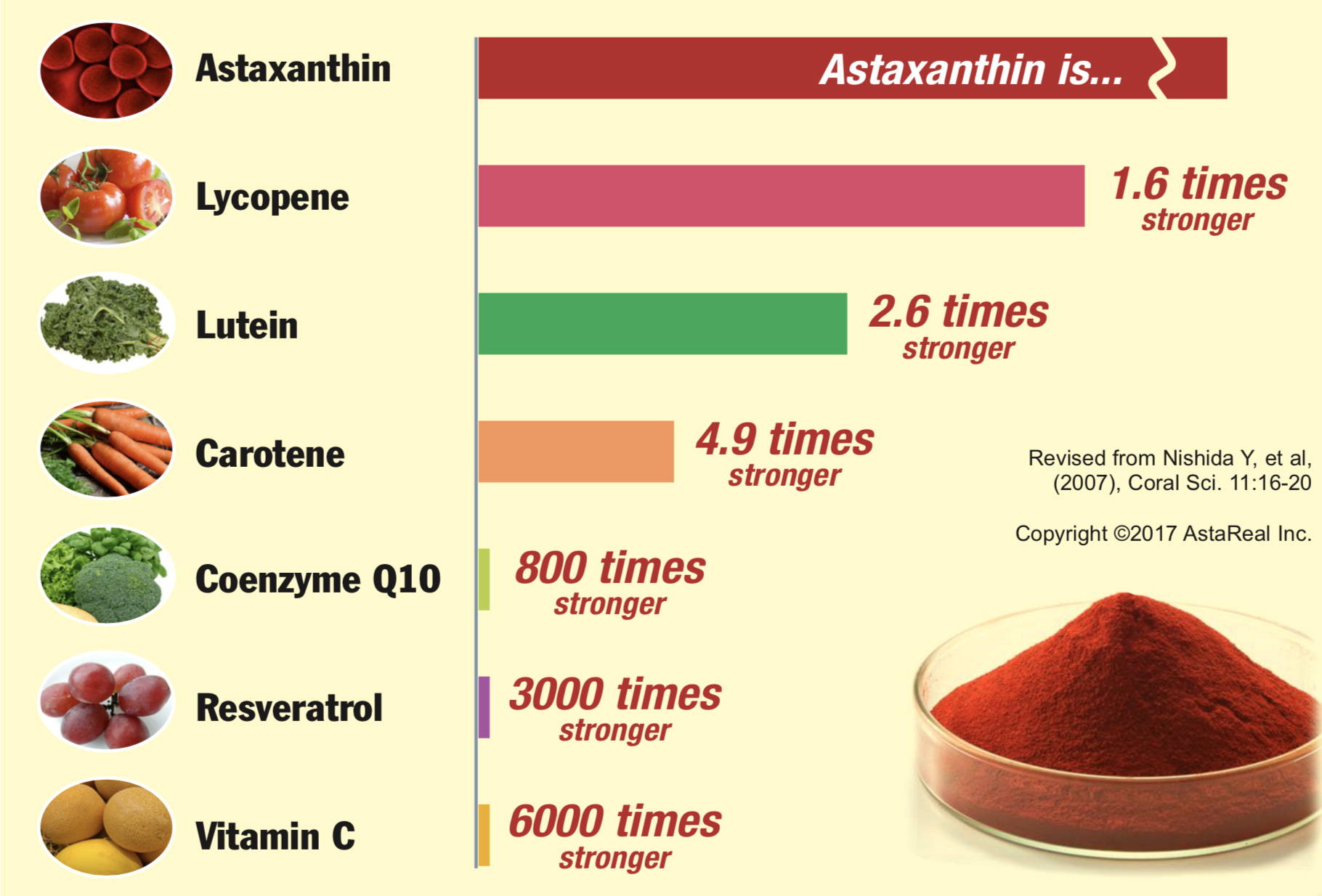 This astaxanthin extract has been shown to be extremely potent.
Indoor cultivation using filtered water and air eliminates contaminants from bugs, pollution, and the weather.
Natural vs. Synthetic Astaxanthin
Synthetic astaxanthin has a different molecular profile than natural material. While the only clinical study on synthetic astaxanthin indicates it may have some health benefits, no clinical research has compared it to the natural form.

Indoor cultivation using sustainable energy sources minimizes the use of energy, water loss by evaporation, and space, while protecting against environmental pollutants. Moses Lake facility uses hydroelectric power from the Columbia River
TrueAloe™ Customer Reviews

Written by Victoria M. on 1/14/2020
I have been taking Aloe Vera for years. True Aloe helps keep my joints healthy so I can go to exercise class and play Pickleball. Thank you!
---

Written by Carmen A. on 11/26/2019
I use a lot of the Nature City products. All the products I use are excellent and they work for me.Some people are just looking for a chance to make money. If the products doesn't work for you just don't continue to use it.
---

Written by Larry L. on 11/8/2019
Our family and our pets both thrive on this product. Occasional indigestion problems have diminished greatly. We are so glad we found this product.
---

Written by Joyce on 10/27/2019
I take 2 capsules in the morning and 2 capsules at night. TrueAloe helps my joints. I wouldn't be without TrueAloe!
---

Written by Emma L. on 9/30/2019
I love my TrueAloe! Been taking it for 10 years. Helps my digestion and joints.. I could really tell a difference when I stopped taking it for awhile!
---
Dietary Supplement / 120 capsules

Serving Size: 2 capsule
Servings per Container: 60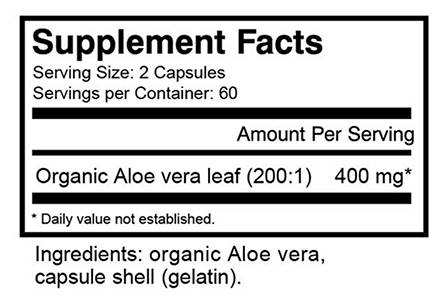 Suggested Use: Take 4 (four) capsules twice per day at separate times of day (a total of 8 capsules per day) for the first 14 days. Thereafter, take 2 (two) capsules twice per day, or use as directed by your health care practitioner.

TrueAloe™ is made with QAI certified organic Aloe vera and is certified for content and purity by the International Aloe Science Council (IASC).†

- Keep out of reach of children
- Do not use if seal is broken or missing
- Store in a cool dry place

†These statements have not been evaluated by the Food and Drug Administration. This product is not intended to diagnose, treat, cure or prevent any disease.

- Gluten Free
- Non-GMO
- Assembled in the USA

Manufactured for and Distributed by: NatureCity®
Boca Raton, FL 33487 www.naturecity.com
To re-order call toll free 1-800-593-2563