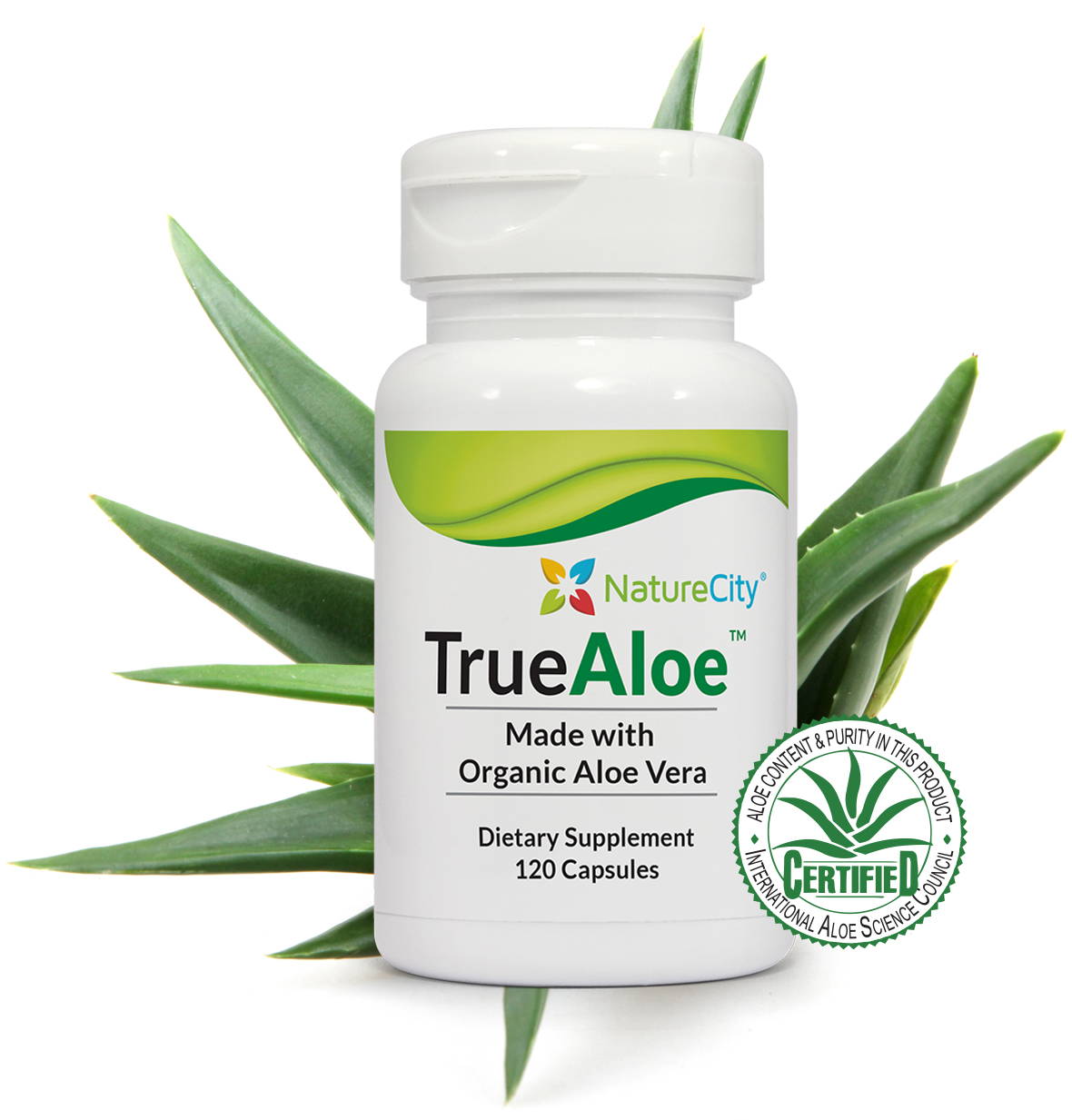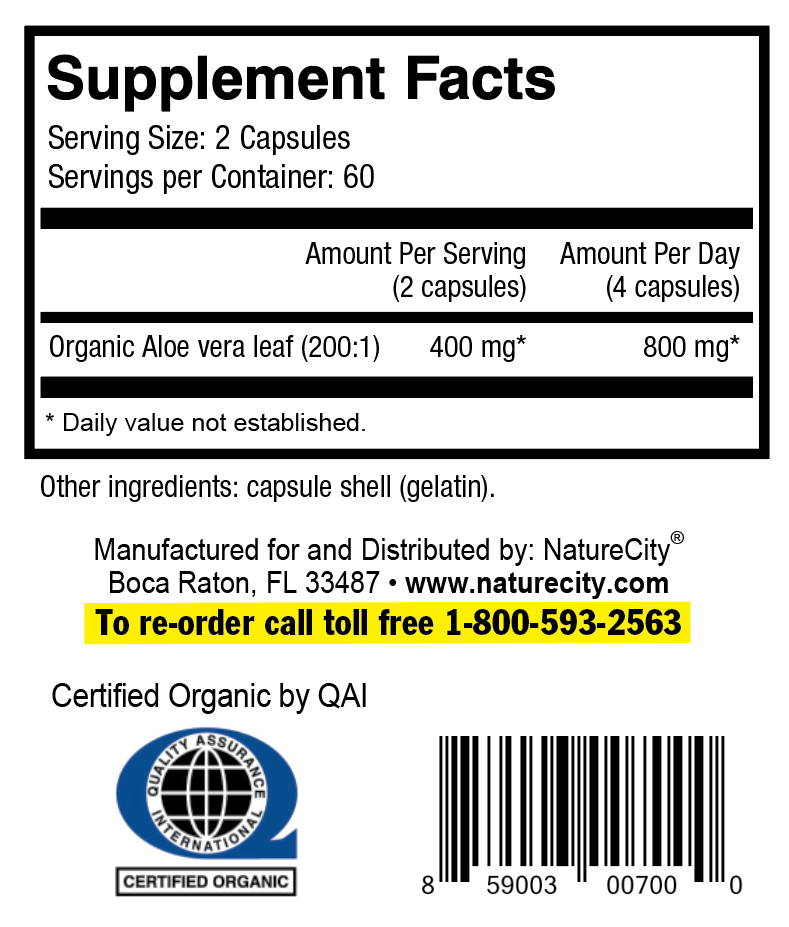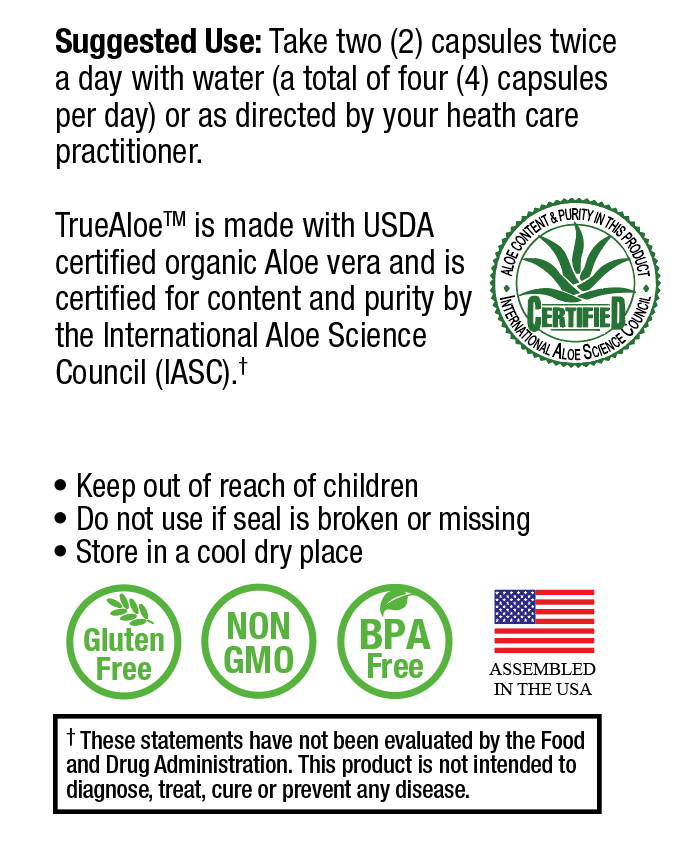 With 19 Years of Experience, NatureCity creates quality nutritional supplements that put science and nature to work for you. All purchases come with a ONE YEAR 100% money back guarantee.
Organic Aloe Vera Supplement
NatureCity® is proud to use a patented "farm to bottle" process that results in the highest quality Aloe vera powder you can find with 200mg of certified organic Aloe vera per capsule.
The patented freeze-drying method protects and preserves the valuable polysaccharides such as acemannan.
It takes about 10 pounds of fresh, organic Aloe vera leaves just to make a single bottle of TrueAloe™
PRODUCT INFO
Serving Size: 2 Capsule (Amount Per Day: 4 Capsules)

Servings Per Container: 60

400 mg of Organic Aloe Vera Leaf (200:1) Per Serving
SINGLE BOTTLE (ONE MONTH SUPPLY)
The aloe in TrueAloe™ is certified for purity and content by the International Aloe Science Council (IASC)
TrueAloe contains 200mg of certified organic Aloe vera per capsule. No fillers are ever used.
Patented freeze-drying method protects and preserves the valuable polysaccharides such as acemannan
Virtually free of undesirable anthraquinones, which have a strong laxative effect
TrueAloe gives you up to 4.8x more Aloe vera in each bottle than other leading brands
What Makes Aloe Vera So Powerful?
Aloe vera is not your ordinary garden variety plant. It contains over 200 nutrients that help support your health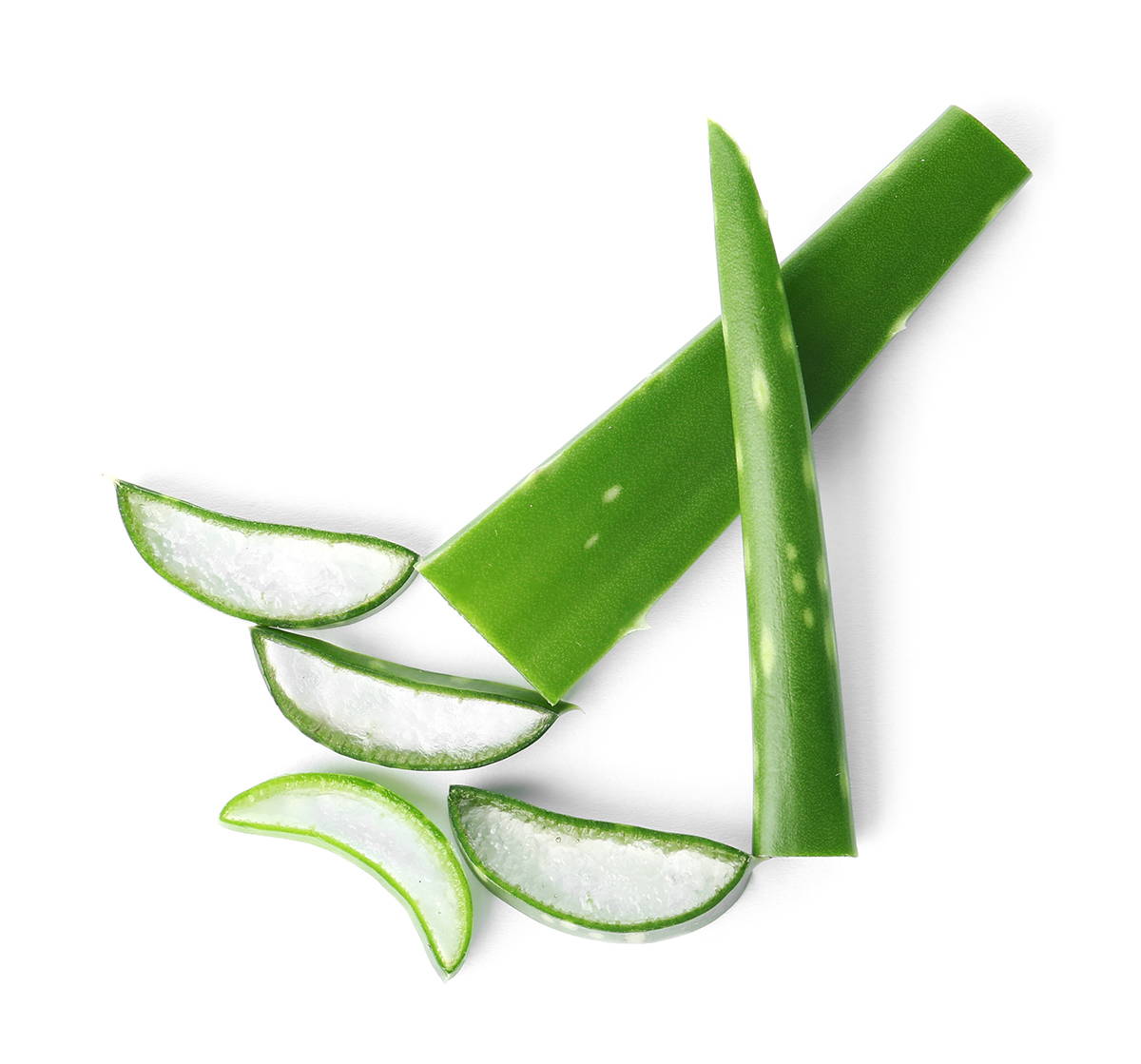 VITAMINS
A, C, E, B1, B2, B6, B12, Folate, Choline
MINERALS
Boron, Calcium, Chromium, Iron, Copper, Magnesium, Iron, Copper, Magnesium, Manganese, Potassium, Selenium, Silicon, Zinc
AMINO ACIDS
Provides 20 of the 22 required amino acids & 7 of the 8 essential ones
ENZYMES
Aliiase, Alkaline, Phosphatase, Amylase, Carboxypeptidase, Catalase, Cellulase, Lipase, Peroxidase
STEROLS
Provides 5 main plant sterols
OTHER
Polysaccharides, Lignin, Salicylic Acid, Saponins
Help Support Joint Health
So you can perform everyday activities more comfortably
Helps promote better digestion and balance stomach acid levels
Helps you maintain normal blood sugar levels
Helps you protect against oxidative stress
TrueAloe Customer Reviews
Written by Victoria M. on 1/14/2020
I have been taking Aloe Vera for years. True Aloe helps keep my joints healthy so I can go to exercise class and play Pickleball. Thank you!
---
Written by Carmen A. on 11/26/2019
I use a lot of the Nature City products. All the products I use are excellent and they work for me.Some people are just looking for a chance to make money. If the products doesn't work for you just don't continue to use it.
---
Written by Larry L. on 11/8/2019
Our family and our pets both thrive on this product. Occasional indigestion problems have diminished greatly. We are so glad we found this product.
---
Written by Joyce on 10/27/2019
I take 2 capsules in the morning and 2 capsules at night. TrueAloe helps my joints. I wouldn't be without TrueAloe!
---
Written by Emma L. on 9/30/2019
I love my TrueAloe! Been taking it for 10 years. Helps my digestion and joints.. I could really tell a difference when I stopped taking it for awhile!
---
Written by Lynn H. on 4/07/2019
Love the product
Dietary Supplement / 120 capsules

Serving Size: 2 capsule
Servings per Container: 60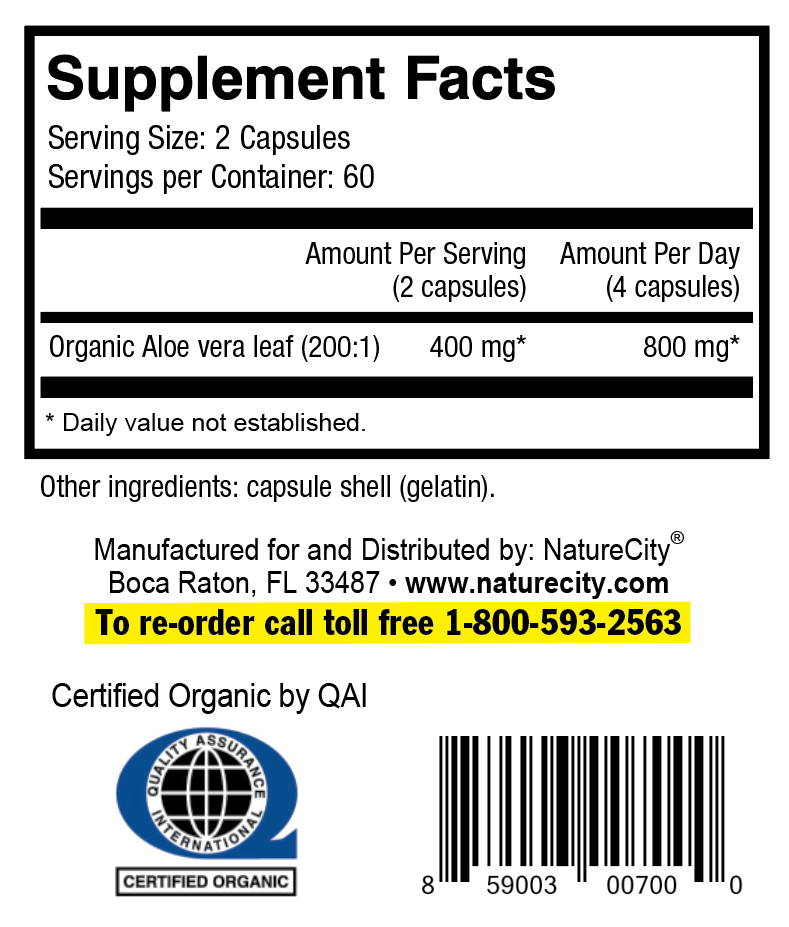 Suggested Use: Take 4 (four) capsules twice per day at separate times of day (a total of 8 capsules per day) for the first 14 days. Thereafter, take 2 (two) capsules twice per day, or use as directed by your health care practitioner.

TrueAloe™ is made with QAI certified organic Aloe vera and is certified for content and purity by the International Aloe Science Council (IASC).†

- Keep out of reach of children
- Do not use if seal is broken or missing
- Store in a cool dry place

†These statements have not been evaluated by the Food and Drug Administration. This product is not intended to diagnose, treat, cure or prevent any disease.

- Gluten Free
- Non-GMO
- Assembled in the USA

Manufactured for and Distributed by: NatureCity®
Boca Raton, FL 33487 www.naturecity.com
To re-order call toll free 1-800-593-2563
Q:   How many capsules of TrueAloe™ do I take?
A:  Each TrueAloe™ capsule contains 200mg of Aloe vera... We recommend taking two (2) capsules twice (2) a day, or a total of four (4) capsules a day (800mg of TrueAloe™).
Many clients find it beneficial to start TrueAloe™ by doubling up on this serving size for the first 14 days. If you choose this direction, take four (4) capsules, twice (2) a day for the first 14 days.

Q: Are there any additives or preservatives in TrueAloe™?
A:  No, the only ingredient is the TrueAloe™ powder.

Q: What parts of the Aloe plant does TrueAloe™ come from?
A: The Aloe vera in TrueAloe™ is made from the Aloe gel and part of the outer leaf, known as the mucilage. TrueAloe™ does not contain the Aloe sap (or latex), where the anthraquinones with strong laxative properties reside.

Q: Why is it important to avoid the Aloe latex and anthraquinones?
A: You will be happy to know that TrueAloe™ is virtually free of anthraquinones because these compounds have very strong laxative properties. Anthraquinones can cause painful stomach cramps, diarrhea and interfere with nutrient absorption, which over time could lead to serious health conditions.
As mentioned, this is not a concern with TrueAloe™.   Each batch of TrueAloe™ is tested, and routinely shows the powder contains less than 1 part per million (ppm) of anthraquinones, which is far less than the maximum 10ppm purity standard set by International Aloe Science Council (IASC).

Q: How long have you been selling TrueAloe™?
A:  We started selling TrueAloe™ in March 2002.  It was our very first product when we opened our doors. The original product was upgraded to the current formula in 2008 after we teamed up with Dr. Ivan E. Danhof, one of the world's foremost authorities on the Aloe vera plant.

Q: How many bottles should I order?
A:  Each bottle of TrueAloe™ is a 30 day supply and since your order comes with a full 1 year money back guarantee, we recommend taking advantage of our quantity discount pricing so you can save more today. Plus, when you order 3 bottles or more you will receive FREE shipping.
Also important, in general our clients who get the best results have been taking TrueAloe™ for 5 or 6 months.  That's why we recommend choosing the Best Value Deal.

Q: When will I receive my order?
A: Our fulfillment team will ship your order from our Florida facility within 1 business day. Most orders take 2-4 days on average to arrive once shipped, depending on your location.  We will email you the tracking information when the order ships, and we're here for you by phone 24/7 (800-593-2563) if you have any questions.

Q: Will my purchase enroll me in a subscription or automatic shipment program?
A: No! This is a one-time purchase.  If you prefer the convenience and extra savings of continuing shipments on a regular schedule that suits you best, we will be happy to set that up and personalize it to your specific needs. Just call us at 800-593-2563.

Q: Do I take TrueAloe™ with or without food?
A:  Either, depending on what's most convenient for you.  However, considering that Aloe vera helps improve absorption of certain nutrients, we generally recommend taking with food or with other vitamin supplements.