Organic Aloe Vera Supplement
PRODUCT OVERVIEW
200mg of certified organic Aloe vera per capsule

Patented freeze-drying method protects and preserves the valuable polysaccharides such as acemannan

Promotes joint health, heart health and blood sugar health

Supports better digestion and helps soothe the stomach


Helps maintain healthy cholesterol and triglyceride levels
PRODUCT INFO
Serving Size: 2 Capsule (Amount Per Day: 4 Capsules)

Servings Per Container: 60

400 mg of Organic Aloe Vera Leaf (200:1) Per Serving
SINGLE BOTTLE (ONE MONTH SUPPLY)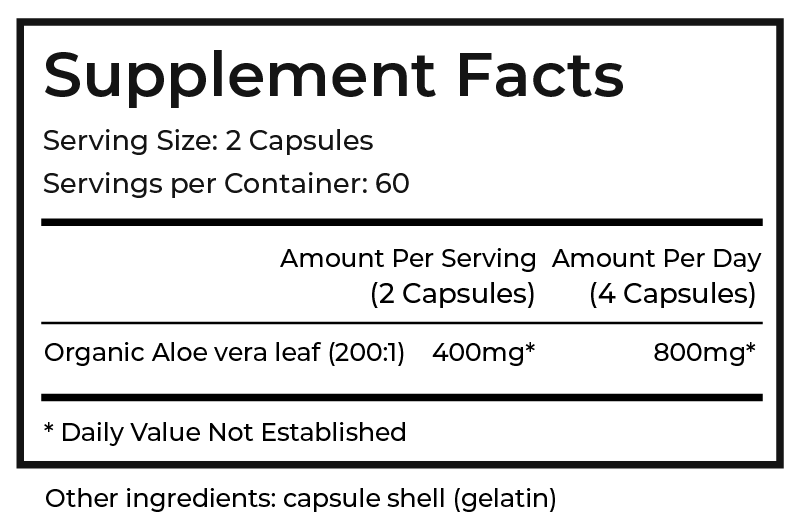 NatureCity is proud to use a patented "farm to bottle" process that results in the highest quality Aloe vera powder you can find. Fresh and nutrient rich Aloe vera leaves are hand harvested and promptly made into powder using a patented process. This patented freeze-drying method is designed to maximize nutritional potency while being virtually free of undesirable anthraquinones (which have a strong laxative effect)
It takes about 10 pounds of fresh, organic Aloe vera leaves just to make a single bottle of TrueAloe.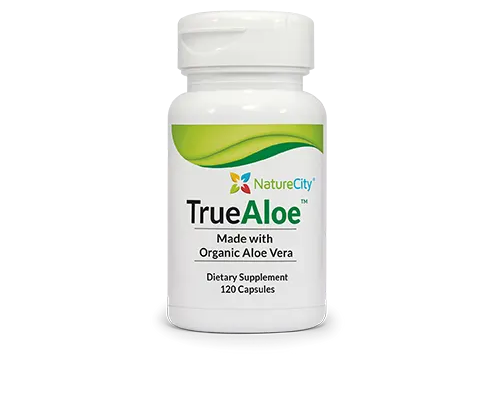 One Time Purchase
$24.97 per bottle
Subscribe & Save
$22.47 per bottle
You Save: $2.50 (10%)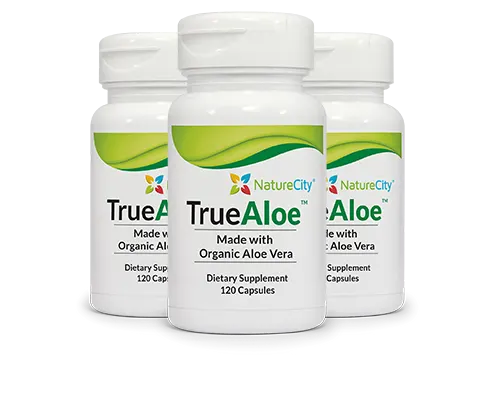 One Time Purchase
$23.29 per bottle
You Save: $5.04 (7%)
Subscribe & Save
$20.96 per bottle
You Save: $12.03 (16%)
TrueAloe gives you up to 4.8x more Aloe vera in each bottle than other leading brands
What Makes Aloe Vera So Powerful?
Aloe vera is not your ordinary garden variety plant. It contains over 200 nutrients that help support your health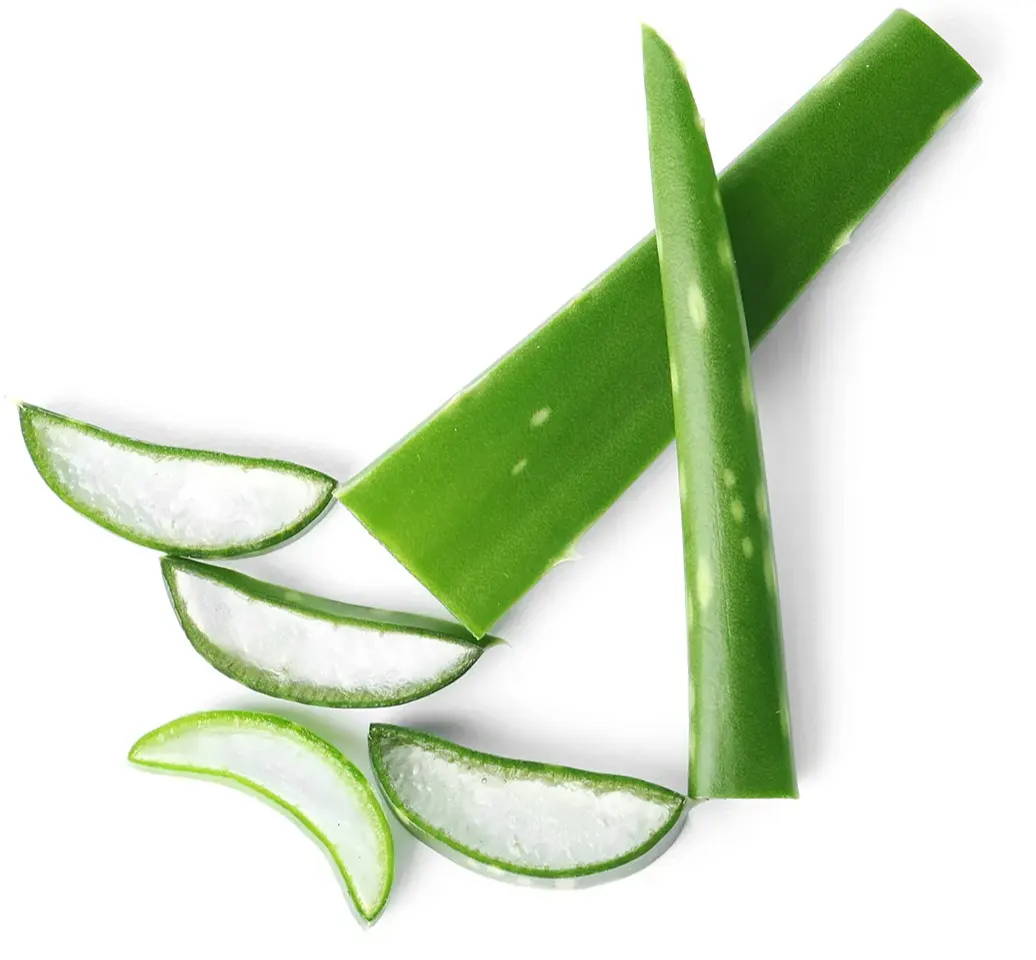 VITAMINS
A, C, E, B1, B2, B6, B12, Folate, Choline
MINERALS
Boron, Calcium, Chromium, Iron, Copper, Magnesium, Iron, Copper, Magnesium, Manganese, Potassium, Selenium, Silicon, Zinc
AMINO ACIDS
Provides 20 of the 22 required amino acids & 7 of the 8 essential ones
ENZYMES
Aliiase, Alkaline, Phosphatase, Amylase, Carboxypeptidase, Catalase, Cellulase, Lipase, Peroxidase
STEROLS
Provides 5 main plant sterols
OTHER
Polysaccharides, Lignin, Salicylic Acid, Saponins
The aloe in TrueAloe™ is certified for purity and content by the International Aloe Science Council (IASC)
TrueAloe contains 200mg of certified organic Aloe vera per capsule. No fillers are ever used.
Patented freeze-drying method protects and preserves the valuable polysaccharides such as acemannan
Virtually free of undesirable anthraquinones, which have a strong laxative effect
TrueAloe Customer Reviews
Written by Victoria M. on 1/14/2020
I have been taking Aloe Vera for years. True Aloe helps keep my joints healthy so I can go to exercise class and play Pickleball. Thank you!
---
Written by Carmen A. on 11/26/2019
I use a lot of the Nature City products. All the products I use are excellent and they work for me.Some people are just looking for a chance to make money. If the products doesn't work for you just don't continue to use it.
---
Written by Larry L. on 11/8/2019
Our family and our pets both thrive on this product. Occasional indigestion problems have diminished greatly. We are so glad we found this product.
---
Written by Joyce on 10/27/2019
I take 2 capsules in the morning and 2 capsules at night. TrueAloe helps my joints. I wouldn't be without TrueAloe!
---
Written by Emma L. on 9/30/2019
I love my TrueAloe! Been taking it for 10 years. Helps my digestion and joints.. I could really tell a difference when I stopped taking it for awhile!
---
Written by Lynn H. on 4/07/2019
Love the product