Full Spectrum Tocotrienol Complex
PRODUCT OVERVIEW
Natural source of traditional vitamin E as well as other forms of vitamin E known as tocotrienols

Made with EVNol™ from Non-GMO, Sustainable Red Palm Fruit

Promotes cardiovascular, brain and liver health
PRODUCT INFO
Serving Size: 2 Capsule

Servings Per Container: 30

27 mg of Vitamin E (as d-alpha tocopherol) Per Serving (179%)
SINGLE BOTTLE (ONE MONTH SUPPLY)
Benefits of Aloe Vera
One of nature's original "Superfoods", Aloe vera isn't just for use on the skin. Inside the body, the nutrient rich powder from this plant can help you with many health challenges.
Digestive Support
Helps promote better digestion and balance stomach acid levels
Blood Sugar Support
Helps you maintain normal blood sugar levels
Support Joint Health
So you can perform everyday activities more comfortably
Heart Health
Helps you maintain normal cholesterol levels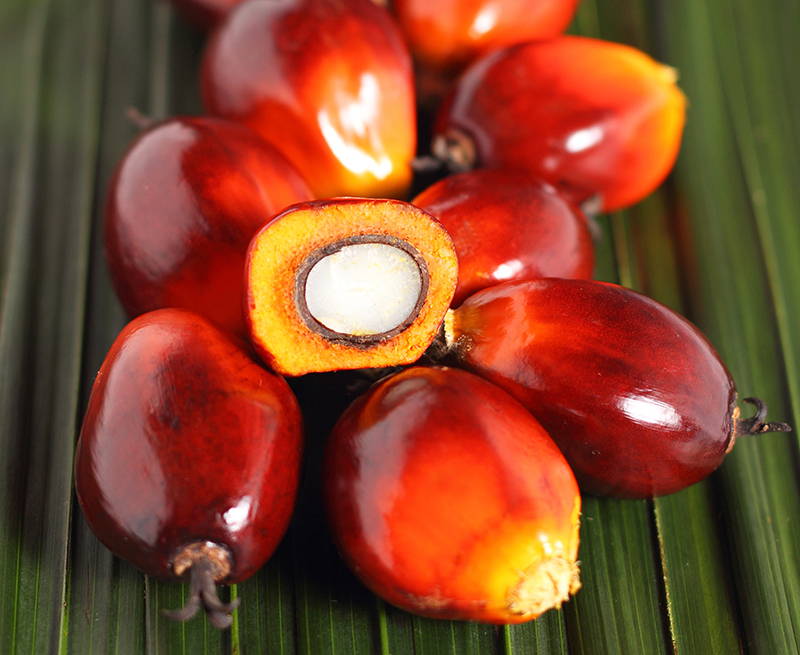 Cardiovascular Health
Promotes many aspects of cardiovascular health, such as protecting molecules from oxidation damage, promoting artery health, and supporting blood flow.
Brain Support
Supports brain health and cognitive function in several unique ways. These include helping to shield brain cells from certain harmful toxins and protect blood vessels in brain tissue.
Liver Support
Supports liver health by helping to maintain normal liver enzyme levels, healthy triglyceride concentrations in the liver and protecting cells from oxidation damage.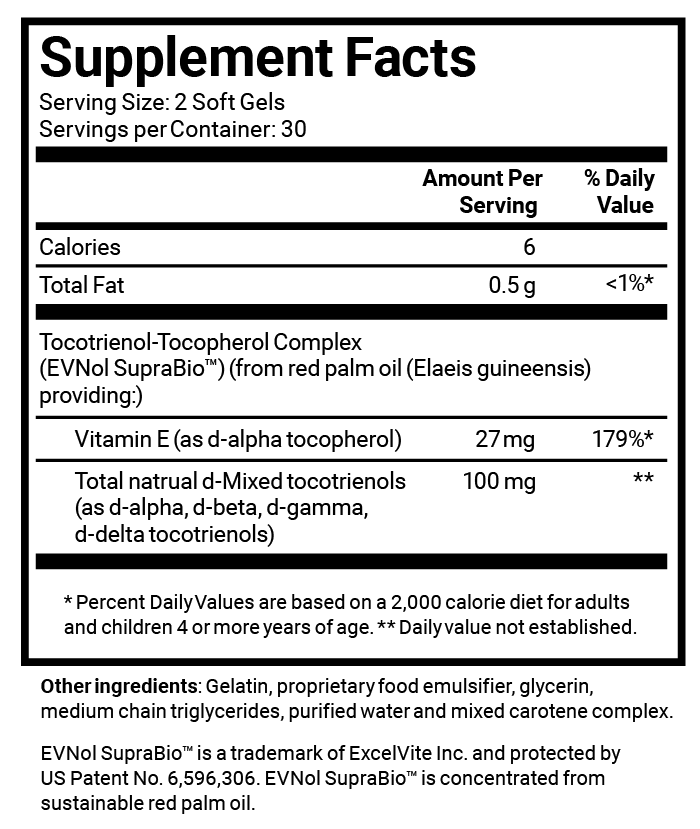 TrueE™ provides an all-in-one source of alpha-tocopherol and the four tocotrienols.
Emerging science is demonstrating that tocotrienols (alpha, beta, delta and gamma) have much greater antioxidant activity and may offer many more health benefits than alpha-tocopherols alone. The oil of the red palm fruit yields the highest concentration of tocotrienols found in nature.
TrueE™, uses premium EVNol SupraBio™, a high quality, sustainable, non-GMO red palm oil extract that uses a patented natural delivery system which significantly increases the absorption of tocotrienols into your bloodstream.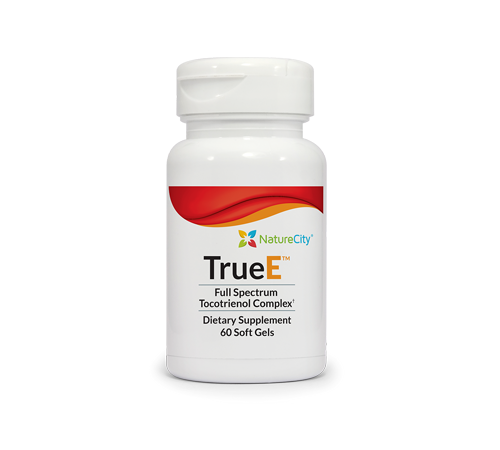 One Time Purchase
$22.97 per bottle
Subscribe & Save
$20.67 per bottle
You Save: $2.30 (10%)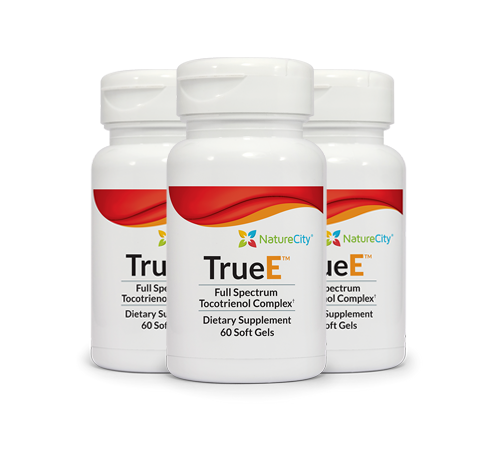 One Time Purchase
$21.37 per bottle
You Save: $4.82 (7%)
Subscribe & Save
$19.23 per bottle
You Save: $11.23 (16%)
The palm fruit cropland is more than 20 years old and the plantations do not encroach on forests or use newly cleared land
Full Spectrum Tocotrienol Complex

TrueE™ contains Vitamin E (as d-alpha tocopherol) and natural d-Mixed tocotrienols (as d-alpha, d-beta, d-gamma, d-delta tocotrienols)
EVNol SupraBio™ Increases the rate and extent of absorption of each individual tocotrienol form by up to 250% compared to a regular tocotrienol oil extract
Written by Victoria M. on 1/14/2020
I have been taking Aloe Vera for years. True Aloe helps keep my joints healthy so I can go to exercise class and play Pickleball. Thank you!
---
Written by Carmen A. on 11/26/2019
I use a lot of the Nature City products. All the products I use are excellent and they work for me.Some people are just looking for a chance to make money. If the products doesn't work for you just don't continue to use it.
---
Written by Larry L. on 11/8/2019
Our family and our pets both thrive on this product. Occasional indigestion problems have diminished greatly. We are so glad we found this product.
---
Written by Joyce on 10/27/2019
I take 2 capsules in the morning and 2 capsules at night. TrueAloe helps my joints. I wouldn't be without TrueAloe!
---
Written by Emma L. on 9/30/2019