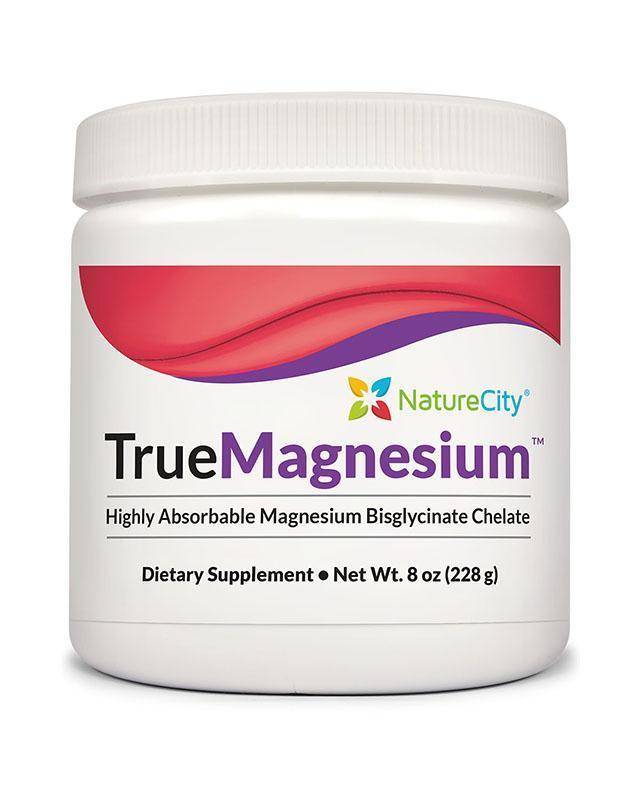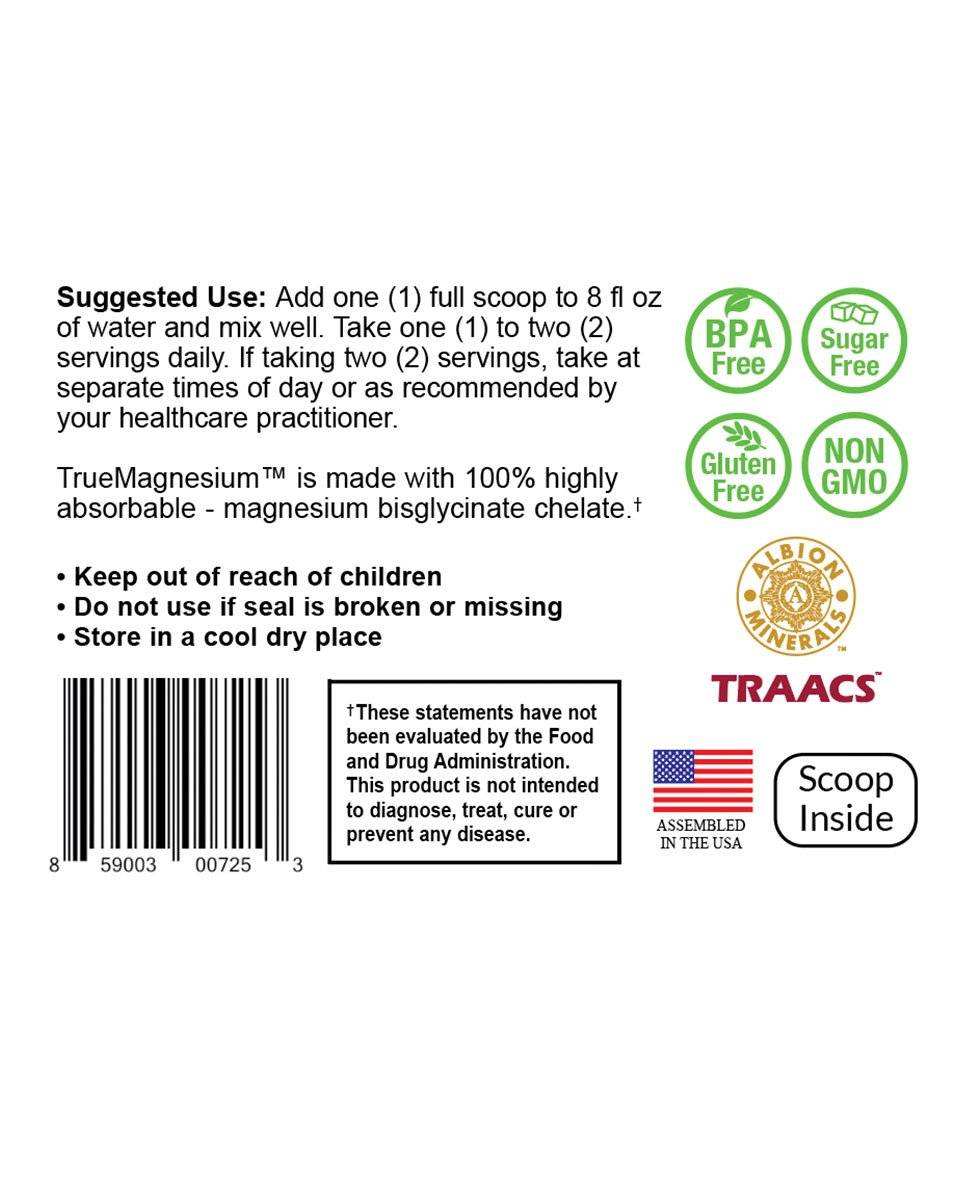 With 19 Years of Experience, NatureCity creates quality nutritional supplements that put science and nature to work for you. All purchases come with a ONE YEAR 100% money back guarantee.
Sugar Free Drink Mix With 200mg Magnesium Per Serving
OVERVIEW:
TrueMagnesium drink mix is formulated with highly absorbable TRAACS® magnesium bisglycinate chelate, which bonds magnesium to the amino acid glycine.
Using glycine as a carrier helps ease digestion and increase the bioavailability of the magnesium.
MAGNESIUM BENEFITS:
Sleep better and feel energized while awake

Improve bone and muscle health

Promote cognitive function and more balanced moods

Help support cardiovascular health
PRODUCT INFO:
Serving Size: 1 Scoop (3.8 g)

Servings Per Container: 60

200 mg Magnesium Per Serving (48% Daily Value)
SINGLE JAR (ONE MONTH SUPPLY)
Stevia and berry flavor help create a delicious drink when adding a scoop of TrueMagnesium to 8oz of water
200mg of Magnesium Per Serving

TRAACS magnesium offers superior digestion and bioavailability
TRAACS magnesium will not ionize in the intestines which can lead to loose stools and diarrhea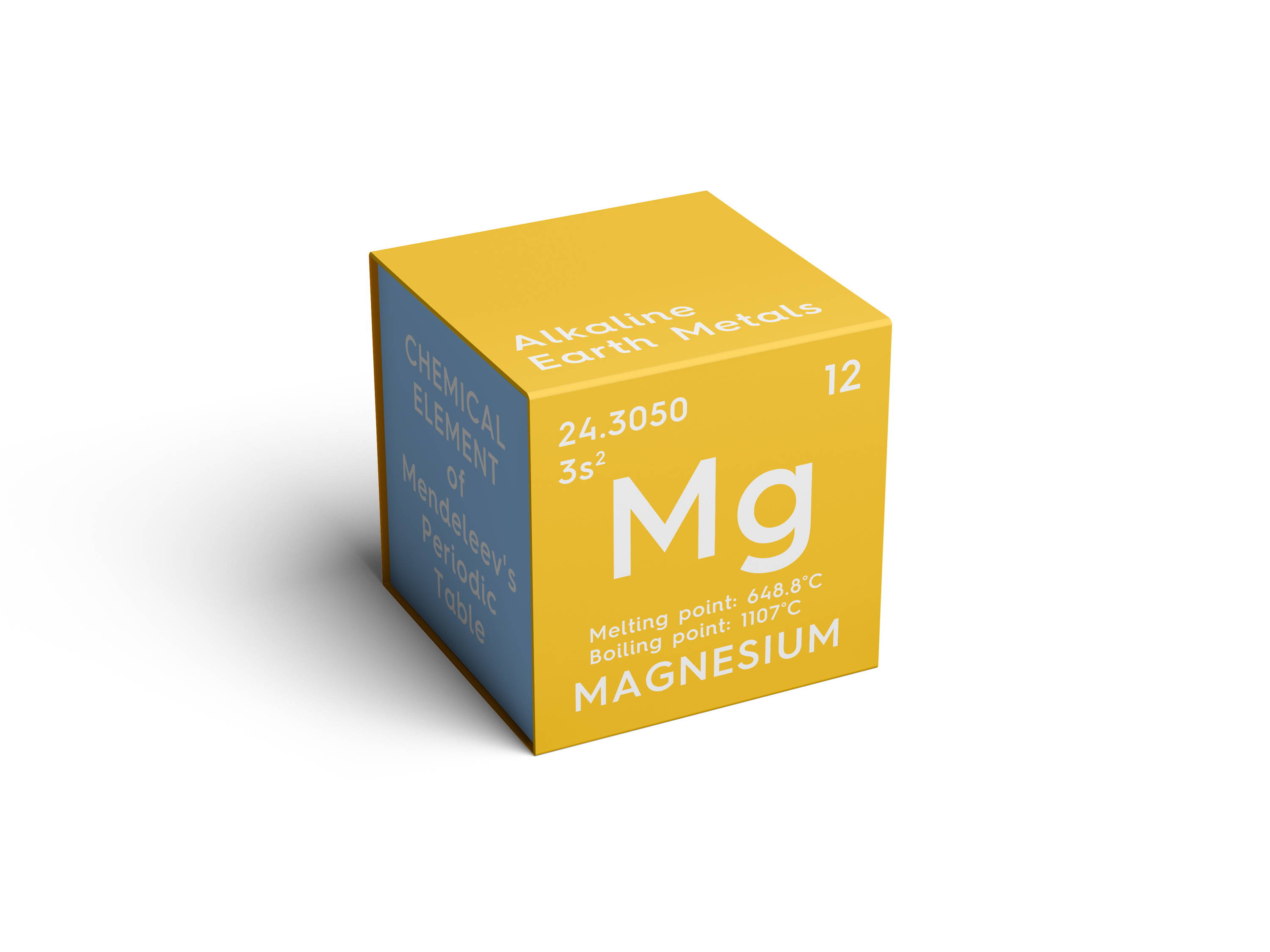 Magnesium is one of the most important minerals in the body, needed for over 325 physiological processes.
However according to the USDA, as many as 75% of Americans fail to reach the Recommended Daily Allowance (RDA). 
TrueMagnesium™ contains 200mg magnesium per serving with a form that replicates how magnesium is naturally found in plants. This form, known as a chelate, increases the bioavailability of the magnesium and makes it easy for us to digest.
Magnesium That that Gets Absorbed Without Causing Bloating or Gastro-Discomfort
TrueMagnesium™ drink mix is formulated with superior TRAACS® Magnesium.
TRAACS® magnesium bisglycinate chelate will not ionize in the intestines. This is important because forms of magnesium that ionize leads to loose stool and diarrhea.
Additionally, because it is fully chelated, the magnesium does not compete with other minerals (like calcium) for a carrier which could impede absorption. Similarly, it's fully protected from other dietary substances (such as phytates of phosphates) that disrupt bioavailability.
The result is a highly absorbable and easily digestible magnesium supplement.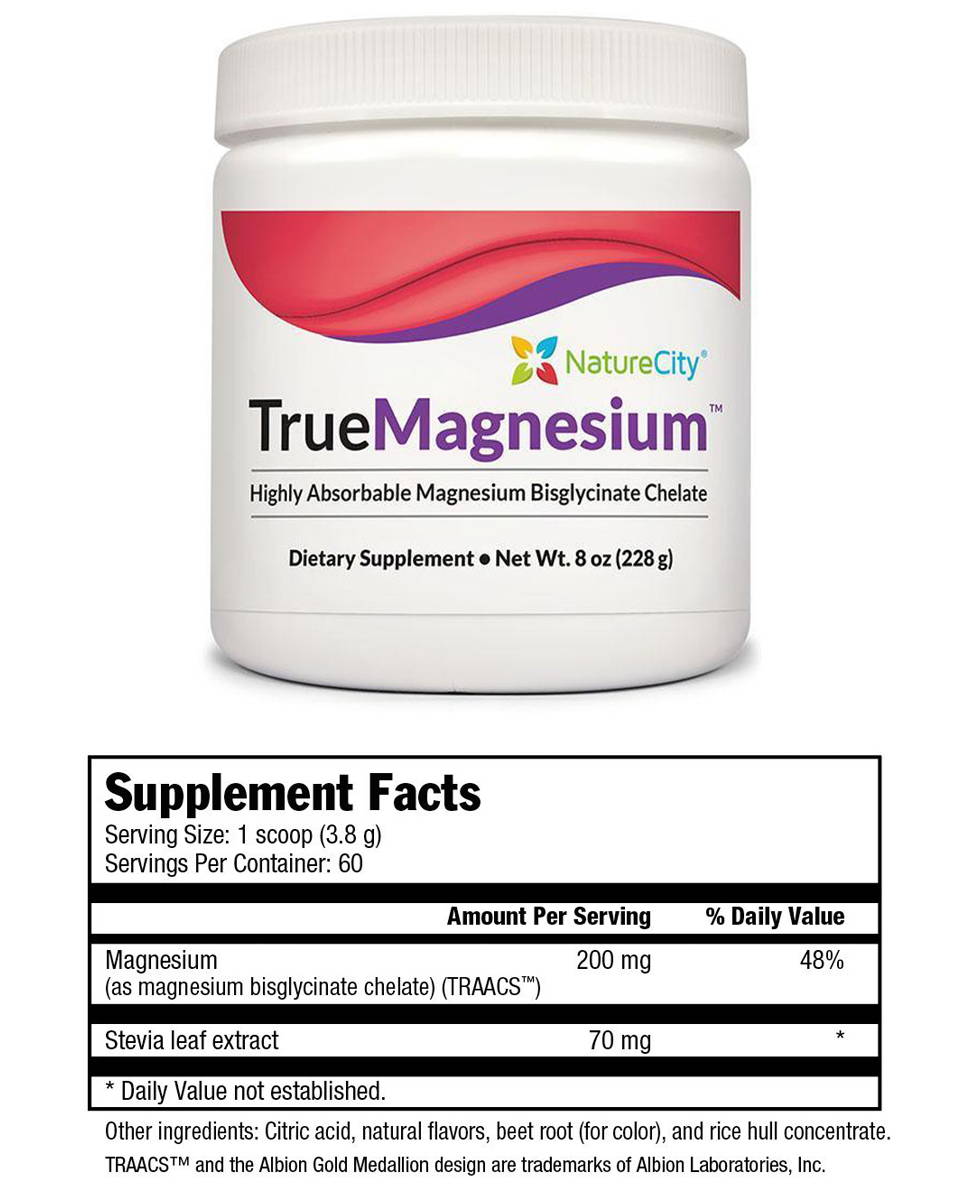 TrueMagnesium Customer Reviews
Flavorful
Written by Marcia H. on 11/30/2020
This is a tasty way to get your Magnesium intake. I was apparently magnesium deficient and have Osteoporosos and trouble sleeping soundly. I can already see an improvement after a very short time. I am confident that this product will be advantageous.
---
Berry Flavored Magnesium
Written by Susan E. on 11/12/2020
I switched to the powdered magnesium when I could no longer swallow the large tablets of magnesium that most companies offer. I take two scoops a day (one scoop AM and one scoop PM.) I find this magnesium to be much tastier and much easier on the stomach than other powdered forms of magnesium. Thank you for offering this product.
---
NightTime Beverage For Great Sleep
Written by Jim S. on 02/18/2020
This stuff is delicious! Much better than I expected.
I was seeking improved quality of sleep, and this has helped a lot. Especially in these cool nights, about an hour before bed, I heat an 8 ounce cup of water to about 150 degrees, and drop in a scoop of trueMagnesium. I have a nice, warm, comforting, delicious beverage before bed, and I sleep great. Very nice. Great Stuff!
---
Great for Smoothies!
Written by Millie C. on 04/04/2020
I really like getting this extra boost of magnesium. I put a scoop in my smoothie each morning and feel it is making a difference in my life. I don't have as many leg cramps as I did before. I tried taking it in a glass of water before bed, but did not care for the taste in water. It was hard to get it all down. I would like to see it in a flavor that is not so strong. But other than that it is great!
---
Written by Susan S. on 07/10/202

True magnesium is a delicious way to supplement your body's need for magnesium. I've tried other magnesium supplements but they upset my digestive system. True magnesium doesn't have that side effect and it's an important supplement to support healthy bones. I like the berry flavor.
---
TrueMagnesium - Berry Flavored Drink Mix
Written by Florie F. on 08/05/2020
We like the fact the this drink has 200 mg highly absorbable magnesium Bisglycinate Chelatae per serving and is sweetened by Stevia rather than sugar. It's a little too sweet for us, so we add an ounce of unsweetened cranberry juice with the glass of water and it tastes much better that way.