When asked about this mineral, many people recall it as something "we used to light on fire in chemistry class."
High school hijinks aside, this mineral is known as the "spark of life" because your body can't make energy without it. On top of this, your body uses it in hundreds of physiological processes!
So shortchanging your body each day for a long period of time can be a recipe for disaster. Yet, according to the USDA, about 75% of Americans fail to reach the Recommended Daily Allowance (RDA) of 400mg.
What's more, some health experts believe the RDA is set too low – which suggests we're REALLY getting far less than what's optimal.
What is this mineral? It's magnesium – and because of mineral depleted soil from over-farming, and other reasons, most Americans aren't getting enough magnesium from food these days.
About a century ago, it's estimated the typical American was consuming about 500mg of magnesium per day from food – courtesy of the nutrient rich soil from which farm products were harvested.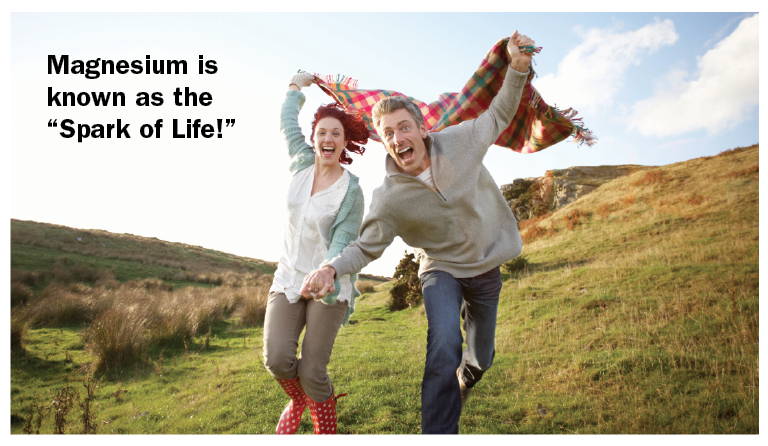 In modern times, it is estimated we only get a paltry 150mg to 300mg per day!
Another reason for this decline is increased reliance on processed foods – which have less magnesium.
It's becoming clearer that decreased magnesium consumption may be hurting our health.
In fact, a study published in The Journal of Intensive Care Medicine found a magnesium deficiency may worsen life-threatening conditions.
The reality is you need to replenish your body's supply of magnesium each and every day because magnesium is constantly being used up in our cells, tissues, bones, organs, skin, hair, fingernails and is excreted in sweat and urine (as kidneys clean our blood).
The other challenge with magnesium can be how to determine if your body needs more.
Relying on your blood level may be misleading because almost all magnesium in your body is inside cells – very little is in your blood.
In other words, your body may be craving magnesium even if a standard blood test reads "normal."
So how can you tell if you might benefit from more magnesium?
Listen to your body. If you're experiencing issues like sleeplessness, muscle cramps, elimination struggles, low energy, headaches, feeling "blue" or if your heart occasionally flutters – it may be a sign you need to increase your magnesium intake.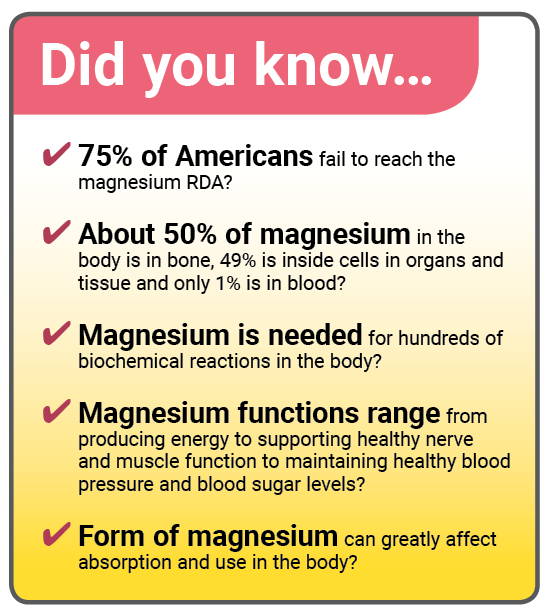 Or if you're struggling to maintain normal blood pressure, cholesterol, blood sugar, bone density or breathing, you may want to consult with your physician about increasing your magnesium intake.
I can promise you that you're certainly not alone – many adults are becoming increasingly interested in magnesium supplements for many of the reasons cited above.
The bad news is the most common forms of magnesium used in these products are very poor at delivering magnesium to the bloodstream (an example of this is the use of magnesium oxide).
Or it functions very well as a laxative (magnesium citrate is an example of this), but isn't as efficient in the primary goal of increasing the amount of magnesium available for your body to use in blood, cells, tissue, bone and more.
For our magnesium powder drink mix, which is called TrueMagnesium™, we chose to use a form of magnesium that replicates how magnesium is naturally found in plants, which is called a chelate.
In plants, chelation binds magnesium to a stabilizing carrier such as an amino acid. This helps make them easier for us to digest and increases the bioavailability of the magnesium.
In TrueMagnesium™, you have a chelate that bonds magnesium and the amino acid glycine – known as magnesium bisglycinate chelate – which offers superior absorption benefits as a magnesium supplement.
As important, we don't just use a generic magnesium bisglycinate chelate – TrueMagnesium™ contains the one we regard as the best, which is from Albion Labs and made using their TRAACS™ technology.
Here are some of the reasons why we believe TRAACS™ magnesium bisglycinate chelate is superior:
For starters, this ingredient is "fully chelated" to help ensure it survives the digestion process intact and is not "buffered" (some similar buffered chelates are actually part magnesium oxide).
Second, glycine is naturally occurring in the body, so your body recognizes this amino acid and is more ready and willing to absorb and use it.
What's more, the size of the magnesium compound is small enough to be absorbed directly into cells.
So with this supplement, the magnesium may get into both your blood and your cells – this is a very important consideration.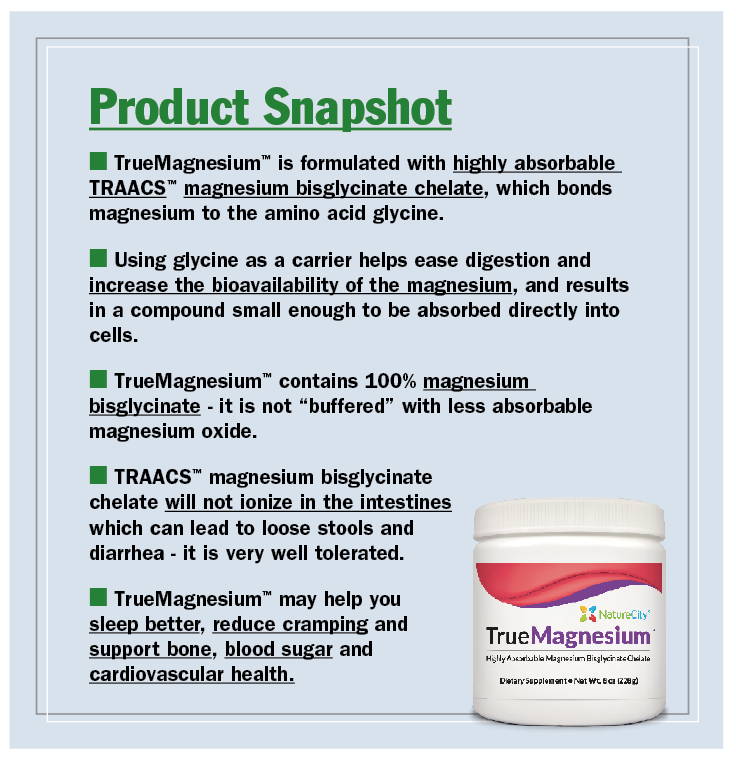 Third, TRAACS™ magnesium bisglycinate chelate should not ionize in the intestines. This is important because forms of magnesium that ionize may lead to loose stool and diarrhea.
That is not a concern when taking TrueMagnesium™, it is very well tolerated.
Next, because it's fully chelated, the magnesium does not compete with other minerals (like calcium) for a carrier which could impede absorption.
Similarly, it's fully protected from other dietary substances (such as phytates of phosphates) that may disrupt bioavailability.
If there's any disadvantage to TRAACS™ magnesium bisglycinate chelate, it's the fact that it's only 10% magnesium – which doesn't make it very suitable for capsules.
In other words, you need 2 grams of magnesium bisglycinate chelate to get 200mg of magnesium. Putting this much powder into capsules would result in a lot of capsules for you to take.
The other challenge is, on its own, magnesium bisglycinate chelate tastes really, really bad!
We've overcome this by formulating a delicious, sugar free, berry flavored drink mix.
We don't use any sugar or artificial sweeteners or flavors to get the great taste. We use an organic stevia leaf extract, citric acid and Non-GMO natural berry flavor.
Just simply add a scoop of TrueMagnesium™ powder to about 8oz of water and you can quickly and easily boost your magnesium intake.
Each scoop of the TrueMagnesium™ powder provides 200mg of magnesium (60 servings per jar).
To help optimize results, try taking two servings a day – one in the morning and one in the evening.
By taking your evening serving just prior to bedtime, you may be more likely to sleep sounder and potentially longer.
What's more, with a better night's sleep, you're more likely to feel more energized during the day.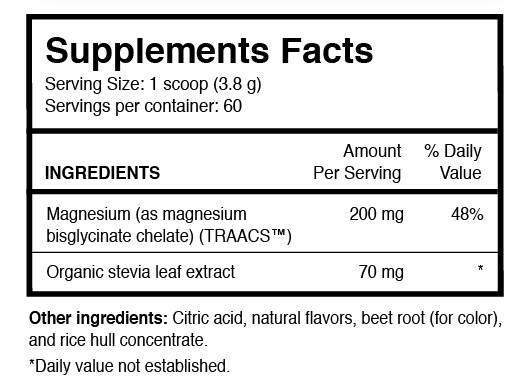 Keep in mind, some people actually feel worse when they start taking a magnesium supplement before they start feeling better.
A reason this happens is because when the magnesium gets into cells it may work to detoxify chemicals and heavy metals.
This is a good thing, but in the short term could lead to joint and muscle discomfort or even skin rashes.
In this case, it's best to start with one serving a day and build up to two servings a day as your body adjusts and detoxifies.
With sustained use, taking a high quality magnesium supplement may make a noticeable difference in your health. Some of the benefits you can experience from TrueMagnesium™ include:
Helping You Sleep Better and Feel Energized While Awake
Help Promote Bone and Muscle Health and Reduce Cramping
Help Support Cardiovascular Health
Help Maintain Healthy Blood Pressure and Blood Sugar Levels
Help Promote Cognitive Function and More Balanced Moods
This is not a comprehensive list as the importance of magnesium can fill a large book. We believe it's critical to many aspects of good health.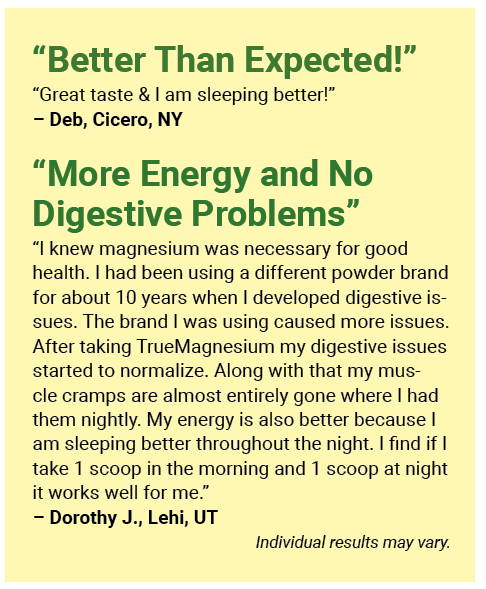 And now with TrueMagnesium™, you get a premier magnesium source in an easy to use and convenient product.
Now there's no reason to risk shortchanging your body on magnesium!
You really have no risk as your TrueMagnesium™ order comes with a full One Year Money Back Guarantee.
If you're not satisfied with TrueMagnesium™ for any reason in the next 365 days, you can return the remaining jars and get a full refund of the product purchase price.
Order today by choosing one of the offers below, or if you prefer, just give us a call at 1-800-593-2563 and we'll rush TrueMagnesium™ to your home.

Please give TrueMagnesium™ a chance to make a difference in your life – just like it's doing for many other NatureCity® clients.
I'm confident you'll be happy you did!
Yours for good health,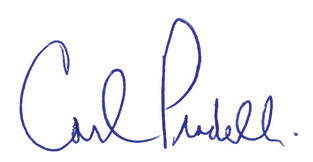 Carl Pradelli
President & CEO