TrueOsteo - Buy 3 Get 1 FREE!
TrueOsteo
Buy 3 Get 1 FREE!
TrueOsteo
Buy 3
Get 1 FREE!
TrueOsteo Helps Keep Your Bones Strong With These Specially Selected Ingredients:
AlgaeCal® – Helps increase bone density, not just slow bone loss like traditional calcium. USDA Certified Organic - from a living plant, not inorganic dense rock.

Vitashine D3® – Plant based, unlike most vitamin D – suitable for vegetarians and vegans.

MenaQ7® – Provides studied amount of 180mcg of vitamin K2 per day – helps promote bone strength, bone mineral density and artery elasticity.
Sensoril® – Helps you maintain your normal cortisol levels (the "stress hormone") and other stress markers.
Orgen-Si® – Silicon/Silica helps energize the bone formation process, helping to attract calcium to the bone matrix – resulting in harder, more dense bones.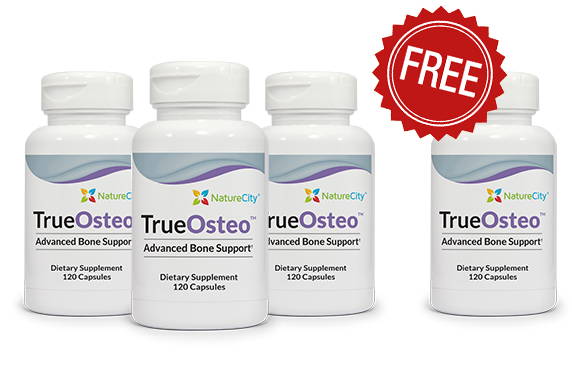 Only $139.42
MSRP: $199.88
With 20 Years of Experience, NatureCity creates quality nutritional supplements that put science and nature to work for you. All purchases come with a ONE YEAR 100% money back guarantee.