TrueOsteo Plant Based Calcium Supplement
Advanced Bone Support Supplement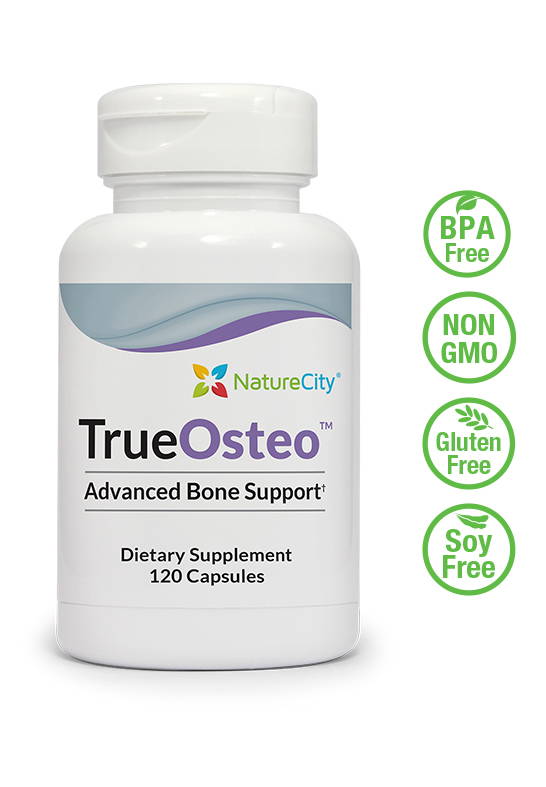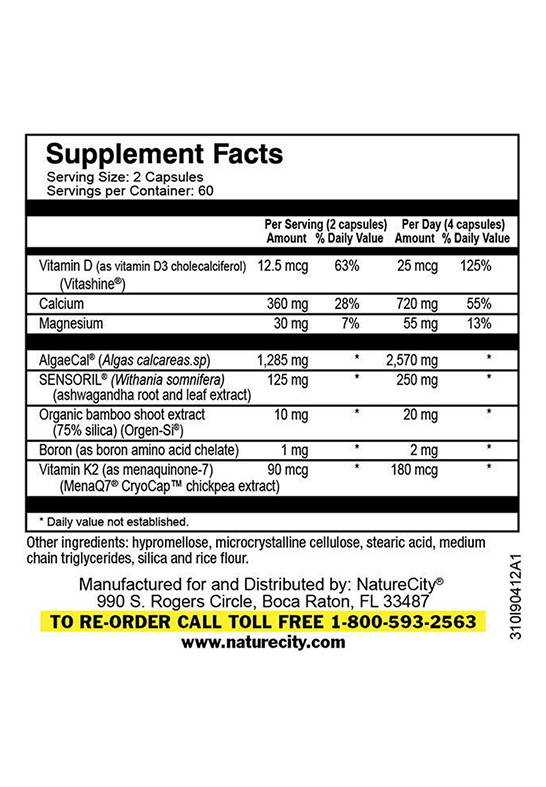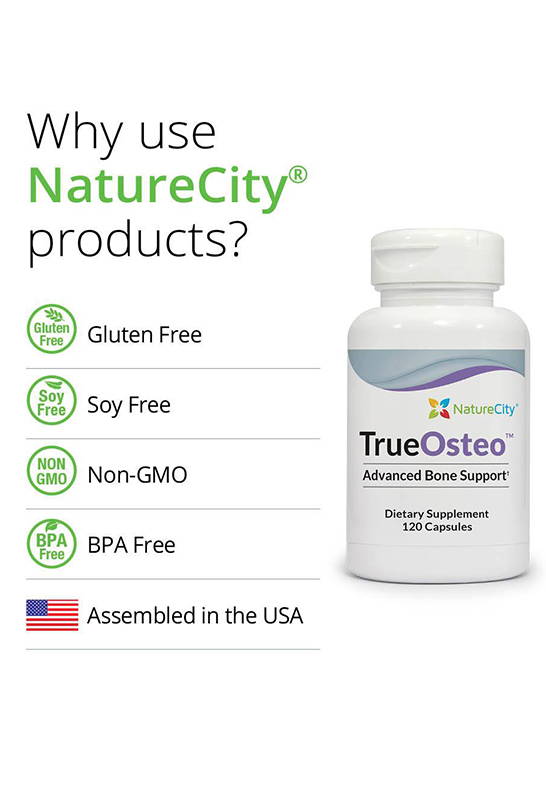 Suggested Use: Take four (4) capsules per day. Two (2) capsules in the morning and two (2) capsules in the evening or as directed by your health practitioner.  
---
AlgaeCal® USDA organic plant based calcium and mineral complex uniquely helps increase bone density - not just slow bone loss, like other calcium supplements.
Vitashine® a plant derived vitamin D3 that

is suitable for vegetarians and vegans.

MenaQ7® vitamin K2 helps put calcium in its place - in bone and not in arteries.
Sensoril®

ashwagandha plant extract

supports normal levels of cortisol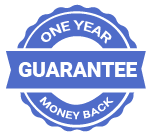 NatureCity believes in quality products for better health.
Our products are made with scientifically backed branded ingredients. No cheap substitutes. All purchases come with a ONE YEAR 100% money back guarantee.
---
Premium Branded Ingredients

Plant Based Calcium - AlgaeCal® is USDA certified organic and harvested from a marine plant off the coastline of South America. It naturally provides calcium in a form that's easy for your stomach to use – as well as numerous other minerals that support bone health, like magnesium.
AlgaeCal® is effective using just 750mg a day, compared to most calcium supplements that require 1,000mg or more per day.

Vitamin K2 - Recent research has shown vitamin K2 is a very important nutrient for keeping calcium in your bones and out of your arteries. Unfortunately, other work shows that as many as 97% of the Western population is deficient in vitamin K2 through diet alone.
Unlike many K2  supplements the MenaQ7® in TrueOsteo™ is made from a natural source, chick peas.

Vitamin D3 - Vitamin D is necessary for calcium to be absorbed efficiently from your stomach to your bloodstream. Once in the bloodstream, vitamin D works with calcium and other minerals to help build and maintain bone.
The vitamin D3 in TrueOsteo, Vitashine®, is a plant derived (from lichen) vitamin D3 that is suitable for vegetarians and vegans.

Ashwagandha Plant Extract - The exact reasons why cortisol causes bone loss isn't entirely clear yet. However, preliminary evidence suggests cortisol:
Interferes with calcium, magnesium and other mineral absorption in the intestines

Inhibits osteoblast (bone building) activity

Activates osteoclasts which causes bone to be resorbed (bones degrade faster)
To help you maintain normal cortisol levels, TrueOsteo™ includes an ashwagandha plant extract called Sensoril®.
https://www.naturecity.com/products/true-aloe
---
TrueOsteo™ Customer Reviews

True Osteo
Kathy M. (Pittsford, NY) - 06/13/2020
I've been pleased with True Osteo. It has a great combination of ingredients. It's healthy for the bones as well as overall health. I have a sense of well being from taking it. I trust True Osteo, and the inclusion of Ashwagandha is brilliant.
---

Grateful
Betty T. (Goshen, IN) - 05/07/2020
I've been taking TruOsteo for years...this past February I broke my leg in two places. My nutritionist advised me to take 7 a day and so grateful she did. I had another x-ray May 5 and I'm growing new bone and my break is not visible and the other break is filling is nicely!!! My Dr was so excited and so was I. Thank you Nature City...I spread the word every chance I get!!
---
Good results
Anne

(Ipswich, ENG) - 04/24/2020
I have been taking True Osteo for many years and recently had a DEXA scan which showed my fracture risk is 7%, the same as my first scan 12 years ago, so although I haven't unfortunately reversed my osteoporosis in spite of Nature City's claims for the supplement (thus only 4 stars) I am very pleased it hasn't got any worse. I put this down to True Osteo since I haven't done or taken anything else to account for this satisfactory result.
---

TrueOsteo
Fredericka T. - 11/10/2019
Never disappointed with an order from Nature City. Thanks for offering a superior product.
---

I'm doing great and feeling great!!!
Delena B. - 11/04/2019
Since being told I needed help with bone health, I have been trying everything. I think your product has helped!! I am doing great & feeling great! Thank you!
---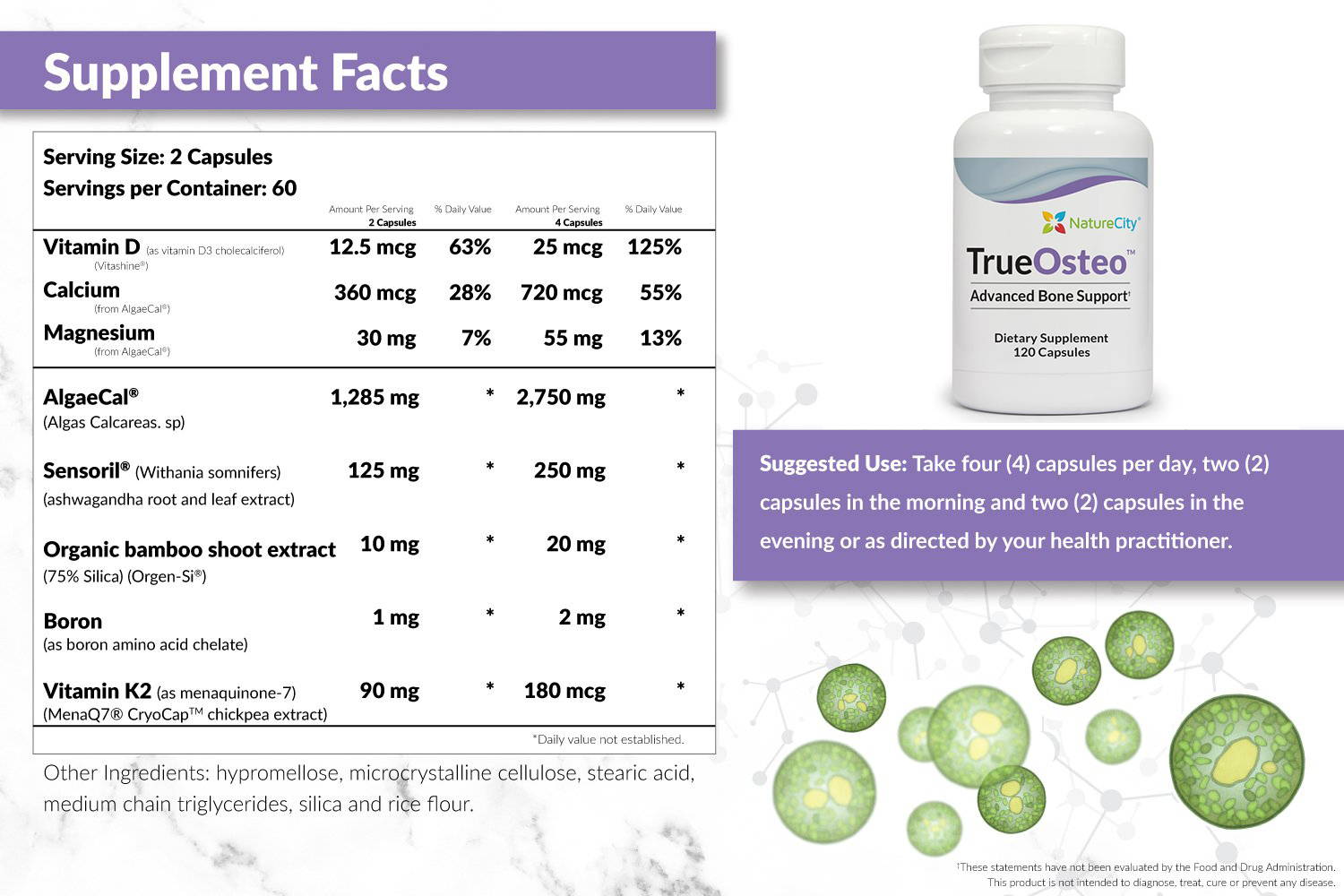 ---