TrueOsteo™ Advanced Bone Support

The Ultimate in Bone Health!

• TrueOsteo™ combines AlgaeCal® (USDA organic plant based calcium and mineral complex), Vitashine® vitamin D3, MenaQ7® vitamin K2, Sensoril® ashwagandha and Orgen-Si® organic silica

• AlgaeCal® uniquely helps increase bone density - not just slow bone loss, like other calcium supplements

• MenaQ7® vitamin K2 is soy-free and in a recent clinical study was shown to support greater bone density and bone strength

• MenaQ7® vitamin K2 also helps put calcium in its place - in bone and not in arteries

• Sensoril® supports normal levels of cortisol (the "stress hormone"), reducing the effects of stress and increasing mental acuity and concentration levels

• One year 100% money back guarantee
AlgaeCal® Organic Plant Calcium

Traditional calcium supplements only slow down your rate of bone loss because they typically use calcium sourced from rocks, which your body doesn't use as well as a food source. But with TrueOsteo you get the benefit of AlgaeCal's plant calcium to help increase bone density instead of just slowing bone loss. Derived from hand-harvested living algae that has been milled into powder, AlgaeCal provides a "whole food" source of natural calcium that's easier to digest and use by your body.
---
We've included MenaQ7, a vitamin K2 extract to help strengthen bones by enabling your body to put calcium in your bones. Vitamin K2 activates a special protein, osteocalcin, that is necessary to enable calcium to build stronger bone tissue. This essential vitamin also helps you avoid unwanted calcium buildup in your arteries by promoting another protein, Matrix GLA, that recycles calcium, so it doesn't build up in blood vessel walls.
---
We've included 20mg of Orgen-Si, a scientifically backed source of silicon, to provide you with a natural source of silicon. Essential to healthy bone formation, silicon helps attract calcium to the bone matrix resulting in harder, more dense bones.

Emerging research is finding that there is a new culprit for bone loss - the stress hormone cortisol. Like many substances in your body, when you maintain normal levels of cortisol it does some very good things. To help you maintain normal cortisol levels, TrueOsteo includes an ashwagandha plant extract called Sensoril. Sensoril helps protect against the effects of everyday stress, supports energy levels, joint health, promotes mental acuity and concentration, and helps support normal cardiovascular function.
---
TrueOsteo contains 1,000 IU of Vitashine, vegetarian vitamin D3, which helps your intestines absorb calcium and deliver it to your bloodstream. Then, once in the bloodstream, vitamin D3 works with calcium and other minerals to build and maintain bone more efficiently than its vitamin D2 counterpart.
---
If We Don't Take It, We Don't Make It
NatureCity believes in quality products for better health. Our products are made with scientifically backed branded ingredients. No cheap substitutes are used in any products. All purchases come with a ONE YEAR 100% money back guarantee.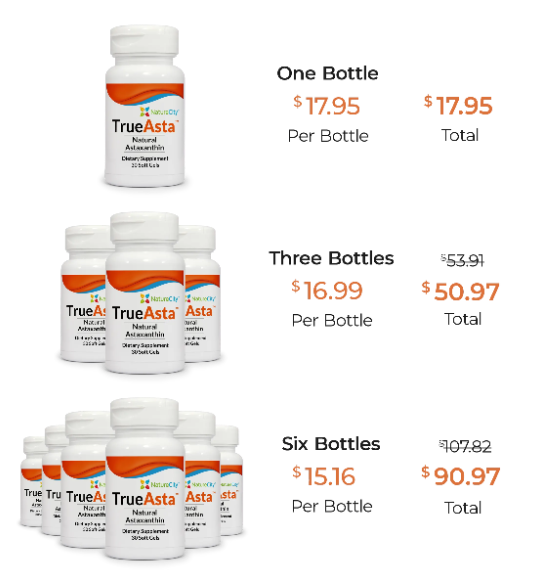 ---
Our advanced TrueOsteo formula features a plant calcium powder that can actually help increase bone density...not just slow bone loss. This plant calcium powder is the only calcium certified USDA organic. Since it's made from a plant - a whole food source - it's believed many people can digest and absorb it better.

Still want more bone support?
Roughly 75% of Americans fail to reach the Recommended Daily Allowance (RDA) of magnesium, according to the USDA. TrueMagnesium offers a chelate that combines magnesium and the amino acid glycine - known as magnesium bisglycinate chelate - that offers superior digestion and bioavailability.
Highly Absorbable Drink Mix
TrueMagnesium can help you:
1. Sleep better and feel energized
2. Support bone and muscle health and reduce cramping
3. Maintain normal blood pressure, blood sugar, and cardiovascular health
4. Support lung health and respiratory function

TrueResveratrol contains 75mg per serving of naturally fermented Veri-te trans-resveratrol (>98% pure trans-Resveratrol). Made in Europe, non-GMO Veri-te resveratrol sets a new standard for purity and consistency, and is free from contaminants such as pesticides, toxic heavy metals, and food allergens.

98% Pure Trans-Resveratrol Antioxidant
Scientific evidence suggests TrueResveratrol can:
1. Support healthy aging by reducing oxidative stress
2. Promote better blood flow to the brain
3. Support blood circulation
4. Help your body maintain health levels of inflammation
5. The scientists working with Veri-te have been exploring new and cutting-edge applications for resveratrol. This resulted in the finding that Veri-te resveratrol promotes bone health

Dietary Supplement / 120 Capsules

Serving Size: 2 Capsules
Servings per Container: 60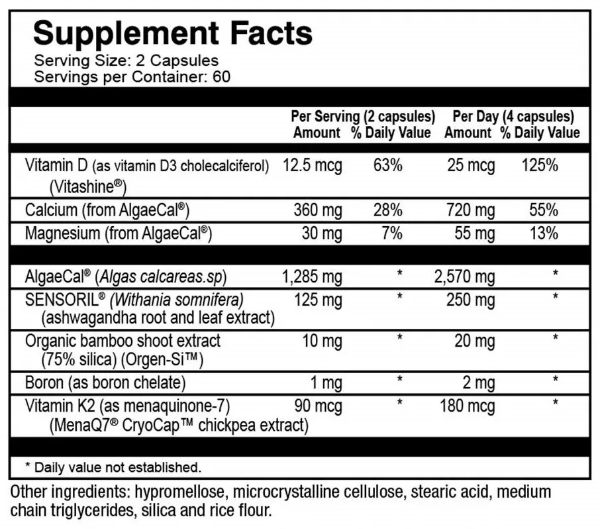 Suggested Use: Take four (4) capsules per day, two (2) capsules in the morning and two (2) capsules in the evening, or as directed by a health care professional.

SENSORIL® is protected under U.S. Patent No. 7,318,938 and CA Patent No. 2,508,478, and is a registered trademark of Natreon, Inc.
AlgaeCal® is a registered trademark of AlgaeCal Distribution, Inc.
MenaQ7® is a trademark of NattoPharma, Norway; patented in the United States and Canada.
VitaShine® is a trademark of ESB Developments Ltd.
Orgen® is a registered trademark of Orgenetics, Inc®.
Keep out of reach of children.
Store in a cool dry place
Do not use if seal is broken or missing

†These statements have not been evaluated by the Food and Drug Administration. This product is not intended to diagnose, treat, cure or prevent any disease.

- Soy Free
- BPA Free
- Non-GMO
- Gluten Free

Manufactured for and Distributed by: NatureCity®
Boca Raton, FL 33487 www.naturecity.com
To re-order call toll free 1-800-593-2563