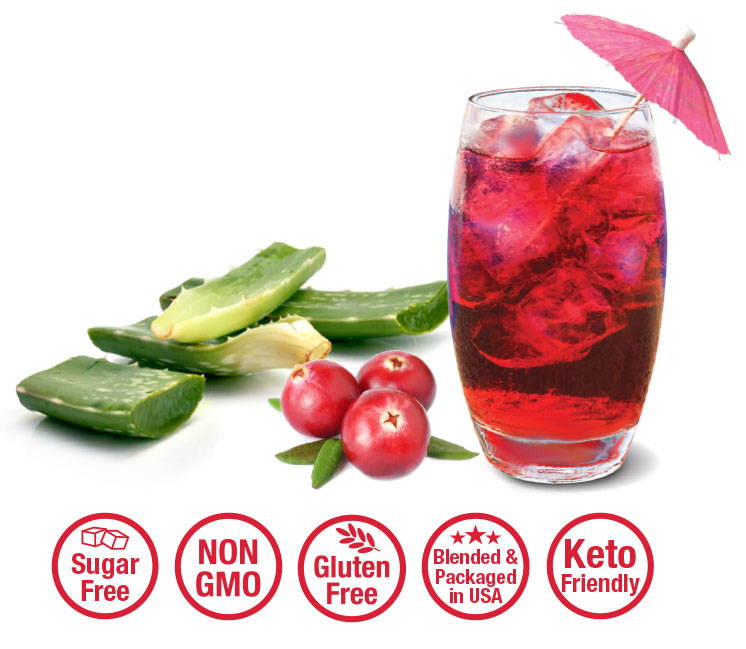 One way to find supplements that "work" is to seek out products that have survived the test of time. These products still exist because they make a positive difference in the lives of people – so users keep taking them!
A perfect example is the AloeCran™ drink mix. Over the last 20 years, tens of thousands gave this product a chance – and many are now thrilled that they did.
In fact, to date our clients have drunk almost 40 million glasses of AloeCran™!
Although many may drink it because it tastes great, is sugar free and contains no artificial sweeteners, many more drink it because of the many potential health benefits the key ingredients in AloeCran™ offer.
Some of these benefits include… helping to balance stomach acid levels and relieve occasional heartburn… helping to improve digestion and elimination… helping to maintain already healthy cholesterol and blood sugar levels, and helping to promote urinary tract health.
AloeCran™ arrives at your home as a drink powder. All you do is add a scoop of powder to 6oz to 8oz of water – depending on how flavorful you want it to be – and in a snap, you have a great tasting, all natural sugar-free drink.
Here's what you get in each delicious, nutritious glass…
Aloe vera is a Great Addition to any Good Health Regimen!
As you may know, Aloe vera can support your body in many ways as you age – helping you live not only longer, but better.
Aloe vera can do this because of its unique biological complexity that provides the following activity:
supports a healthy inflammation response
supports metabolic function
promotes antioxidant activity
helps balance body functions
Frankly, almost everyone interested in maintaining good health may be able to benefit from Aloe vera, and the nutritional support it provides.
Each serving of AloeCran™ contains 200mg (equivalent to 1.3 ounces of fresh Aloe gel) of one of the most potent Aloe vera gel powders around…
ACTIValoe®: Getting the Most Out of the Inner Gel of the Aloe plant
We chose ACTIValoe® for AloeCran™ because it's made with a breakthrough dehydration technology - called Qmatrix® - that sets a new standard for Aloe vera quality.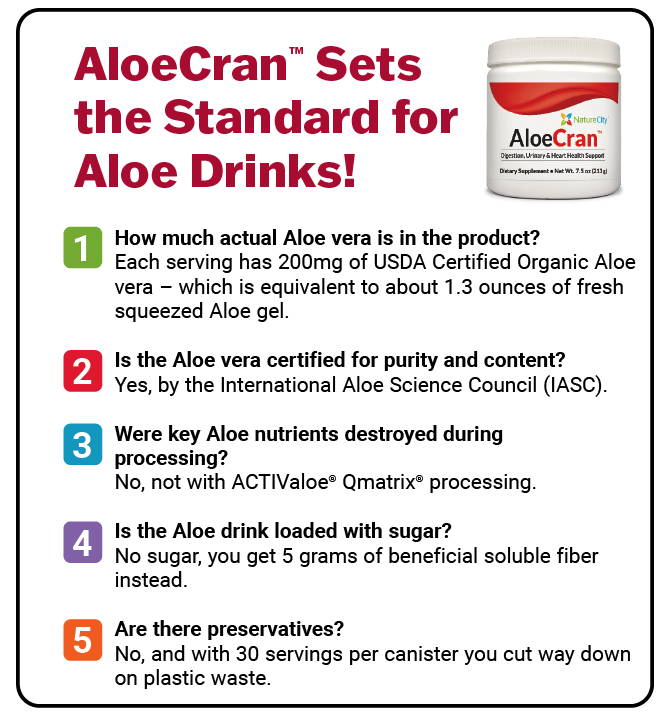 Qmatrix® removes water from a fresh Aloe leaf using a low temperature/short time (LTST) method that protects heat sensitive Aloe nutrients and helps maintain freshness.
What's more, ACTIValoe® is USDA certified organic - from start to finish no chemicals, pesticides or preservatives are used.
On top of this, ACTIValoe® is certified for content and purity by the International Aloe Science Council (IASC).
Each serving of ACTIValoe® is guaranteed to provide a minimum of 10% polysaccharides – which are considered to be among the most important nutrients in Aloe vera.
The ACTIValoe® in AloeCran™ helps you get the most from a plant that has survived and thrived on Earth for over 3,000 years.
Some of the specific benefits of supplementing with Aloe vera include…
Helps balance stomach acid, promote stomach comfort and relieve occasional heartburn
Helps support healthy digestion
Helps improve vitamin absorption and bioavailability.
Helps you maintain normal blood sugar levels
Helps you maintain already normal cholesterol levels (triglyceride, LDL and HDL levels)
While many other Aloe vera drinks may be fortified with sugar that compromises its health properties, AloeCran™ instead provides 5 grams of a soluble fiber that helps complement these benefits…
Instead of Sugar, We Add Soluble Fiber from Non-GMO Fibersol®-2
Instead of added sugar, with AloeCran™ you get 5 grams of beneficial soluble fiber from Non-GMO Fibersol®-2.
There's much to like about Non-GMO Fibersol®-2, which is made from corn. One of the great features of Fibersol®-2 is that it's odorless and tasteless.
This is in contrast to other fiber supplements that often have a "chalky" or otherwise nasty taste. 

Even better, only about 50% of Fibersol®-2 ferments in your large intestine. So you don't have to worry about Fibersol®-2 causing gas or bloating.
Plus, Fibersol®-2 doesn't interfere with mineral or calcium absorption.
What's more, Fibersol®-2 is a completely "clean" fiber. It is made from Non-GMO corn in Iowa and is free of bacteria, GMO proteins, toxins and harmful pathogens - making it safe.
The icing on the cake is there have been over 100 research papers and clinical studies published on Fibersol®-2 in the last two decades that provide support for its health properties.
For example, numerous clinical studies have shown that Fibersol®-2 can help improve regularity and elimination – especially in those who don't go frequently enough.
What's more, these same studies show Fibersol®-2 can increase the volume of waste you excrete – even in those who go regularly.
As important, Fibersol®-2 did not cause diarrhea in the study participants.
Multiple studies also indicate that Fibersol®-2 can help you maintain already healthy triglyceride levels.
Plus, when you consume Fibersol®-2 with a meal, it can help reduce the post-meal rise in blood sugar – allowing your body to process digested starch and sugar more efficiently.
Finally, to the ACTIValoe® and Non-GMO Fibersol®-2, we add some additional antioxidant power from the whole cranberry fruit…
Pacran®: Provides the Goodness
Found in WHOLE Cranberry

Several years ago, a report published by the U.S. Department of Agriculture (USDA) looked at 19 fruits commonly eaten by Americans and found that cranberries were #1 in antioxidant capacity - and it wasn't even close.
We felt that the perfect way to round out the AloeCran™ drink powder was to add the world's premier whole cranberry ingredient named Pacran® (pronounced "pack cran").
With Pacran®, you get every part of the cranberry – the juice flesh, skin and seeds. In clinical studies, Pacran® has been shown to support urinary tract, and at higher dosages, prostate health.
One of the keys to Pacran®'s potency is the type of cranberries used - which are the rare "Early Black" cranberries.
In fact, these berries are harvested from cranberry bogs in Massachusetts that are over 100 years old.
Early Blacks are used because they're among the most potent cranberries around - and are the reason why Pacran® contains 1.5% PACs, which is up to twice as much as other whole cranberry powders.
Each serving of AloeCran™ provides 500mg of Pacran®.
You Get "Best in Class" Ingredients, without any of this stuff…
Now that you know about the key ingredients in AloeCran™, I want to highlight what's NOT in this drink powder...
… AloeCran™ has no sugar, no artificial sweeteners, no preservatives, no gluten, no GMOs, and no fat.
You can drink AloeCran™ on its own, add it to smoothies, protein shakes, or mix it with other drink powders too!
You're in charge!

AloeCran is a Great Bargain Too!
You've seen the details that show AloeCran™ is a premium quality drink powder and that great care has been taken in formulation.
This is why many of our clients already have been enjoying AloeCran™ for many years. In fact, our clients have consumed almost 40 million servings of AloeCran™!
Here's some more good news for you…. even though AloeCran™ is a superior drink product, you don't have to pay a premium price!
Each AloeCran™ canister contains the equivalent of about 40 ounces of fresh organic Aloe vera juice.
If you were to buy this much organic Qmatrix® ACTIValoe® liquid, it alone could cost you over $17.00.
On top of that, purchased separately, the Pacran®, Fibersol®-2, and the natural sweeteners could run you another $20.00.
So in every canister of AloeCran™, the value of the ingredients may be over $37.00.
But I promise you…you'll never, ever pay that much for AloeCran™ from NatureCity®.
In fact, you can get a single canister of AloeCran™ for just $24.97. That's a 33% savings…and you save $12.03 on every canister!

Today, I'd like to sweeten the pot for you even more…
Choose our 6-canister Best Value Bundle and reduce your unit cost to only $19.98… that's an extra 20% savings and you get FREE Shipping too!

And here's the real kicker… with the Best Value Bundle, we'll include a 7th canister of AloeCran™ for FREE!
And don't forget about the Rewards Points you earn with this purchase – up to 240 points that can be used for free product or discounts on a future purchase.
Every 100 Rewards Points can be converted to a $5 coupon you can apply to your next purchase.
Order now by selecting one of the offers below, or if you prefer, call us at 1-800-814-5882, and we'll rush AloeCran™ to your home. Please act today!
Yours for Better Health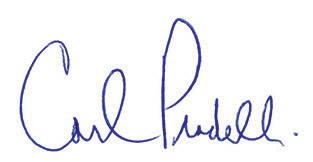 Carl Pradelli
    President & CEO
P.S. Drinking one glass a day of AloeCran™ can make a noticeable difference in your health. For even more support try drinking two glasses a day!