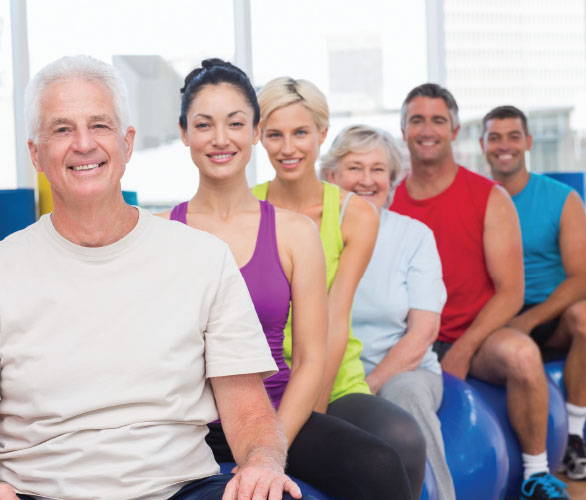 If staying mobile and active, and feeling less joint discomfort is of interest to you, then TrueJoint FLX™, our premier combination joint formula, is something you should consider trying.
TrueJoint FLX™ has been continually improved over the last 18 years to incorporate the latest and greatest joint health advances.
TrueJoint FLX™ is designed to help your joints in both the short and long term.
In fact, with TrueJoint FLX™ you may even start to feel a difference in the first week, and notice less discomfort and improved mobility and flexibility.
You may find your walking speed increases or it's easier to climb stairs.
This can continue to improve over the ensuing weeks and months.
Meanwhile, other ingredients in TrueJoint FLX™ help nourish and promote healthy cartilage and connective tissue (which is found in ligaments, tendons and muscles).
This can lead to a healthier, stronger body over the long term.
The TrueJoint FLX™
approach works so well because it truly supports what your body needs.
For example, if you don't help your body have a healthy inflammation response, your body won't ever have the chance to recover.
Here are some ingredient highlights, and how they can help comfort and cushion joints…
TendoGuard™: Better Comfort, Mobility and Strength
TendoGuard™ is a potent combination of collagen (Types I, II, V, X), hyaluronic acid (HA), and mucopolysaccharides and chondroitin sulfate from egg shell membrane.
Together these nutrients help promote healthy cartilage and connective tissue – helping to provide comfort, strengthen muscle and improve mobility.
TendoGuard™ is sourced and made in the USA, and combines two chicken derived materials, eggshell membrane and cartilage from the sternum (which provides the collagen).
The collagen in TendoGuard™ can help replenish collagen lost through the normal aging process (important for healthy connective tissue).
In turn, this helps to promote joint mobility, flexibility and range of motion.
Also notable, is the hyaluronic acid (HA) that TendoGuard™ provides (around 40mg per day).
Many people associate HA with skin health, but it's an important component of the fluid that helps to lubricate your joints – which is called synovial fluid.
Synovial fluid acts as a cushion and shock absorber in your joints, so you can support weight without scraping bone on bone.
Hyaluronic acid is important because it provides needed viscosity to the synovial fluid.
Without enough HA, synovial fluid that is "too thin" can actually cause joint discomfort instead of protecting you from it.   
TamaFlex®: Help Support Joint Health!
TamaFlex® is the latest addition to TrueJoint FLX™, and it comes from Laila Nutraceuticals, one of our favorite India based herbal ingredient specialists.  Laila is known for investing significant resources in research and development – particularly in joint health.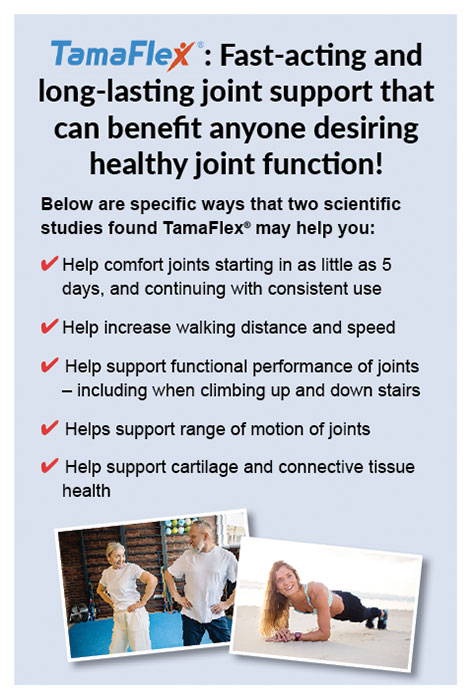 TamaFlex® is a patent pending blend of two plant extracts, Tamarind seeds and Turmeric root, that Laila research discovered can work better together than separately.
In case you don't know, tamarind is a tree found in tropical and subtropical regions. It's fruit is used for cooking in curries and sauces, and also used to flavor beverages.
The tamarind seeds are often roasted and eaten in various parts of the world. Of late, these seeds are receiving a lot of research attention for joint health.
The results of  two scientific placebo controlled studies indicate the novel TamaFlex®, can offer a wide range of joint health benefits.
TamaFlex® can start making a difference in as little as 5 days – and offer valuable joint function support over the longer term.
Here's three key ways TamaFlex® works to help support joint health:
n Helps promote normal COX-2 and 5-LOX enzyme activity to help joint comfort
n Helps protect cartilage, collagen and other connective tissue from destructive MMP enzymes to support joint flexibility
n Helps support a healthy inflammation response to aid better long term joint function
To help make these determinations, researchers tested many blood and urinary biomarkers and the results from those taking TamaFlex® were impressive, in our view.
One unique result we hadn't seen before with other joint health ingredients was a significant improvement in "urinary CTX-II."
When joint cartilage degrades, fragments of type II collagen (called CTX-II) are released and ultimately get excreted in urine. The decline in urinary CTX-II seen after study participants took TamaFlex® for 8 weeks indicates that TamaFlex® may help protect your joint cartilage.
Below are specific ways that two scientific studies found TamaFlex® may help you:
Help comfort joints starting in as little as 5 days, and continuing with consistent use
Help increase walking distance and speed
Help support functional performance of joints – including when climbing up and down stairs
Helps support range of motion of joints
Help support cartilage and connective tissue health
TamaFlex® delivers fast-acting and long-lasting joint support that can benefit anyone desiring healthy joint function, including young adults, and active mature adults.
This makes it a great addition to TrueJoint FLX™!
Fast Actin' ParActin®
ParActin® is a patented extract of the Andrographis paniculata plant, which has been widely used in southern Asia for many years to help keep the body's inflammation response functioning normally.
In several research studies, taking between 100mg and 300mg of ParActin® daily has been shown to help keep the inflammatory system functioning normally – resulting in greater joint comfort and function.
The most recent scientific study compared taking 300mg and 600mg of ParActin® daily.
The findings from this study suggested that more was not better, and 300mg may be the optimal amount to take daily to support joint health in most folks.
TrueJoint FLX™ provides this 300mg daily dose of ParActin® to help comfort and cushion joints.
Like with TamaFlex®, the joint health benefits of ParActin® start fast and can get better with continuous use.
For the ultimate in joint and muscle comfort, try the one-of-a-kind TrueJoint FLX™!
Save on TrueJoint FLX™ and Get a

 

FREE Bottle Too…
TrueJoint FLX™ works best with continuous use – when you take it day in, day out.
You don't want any interruptions, especially early on.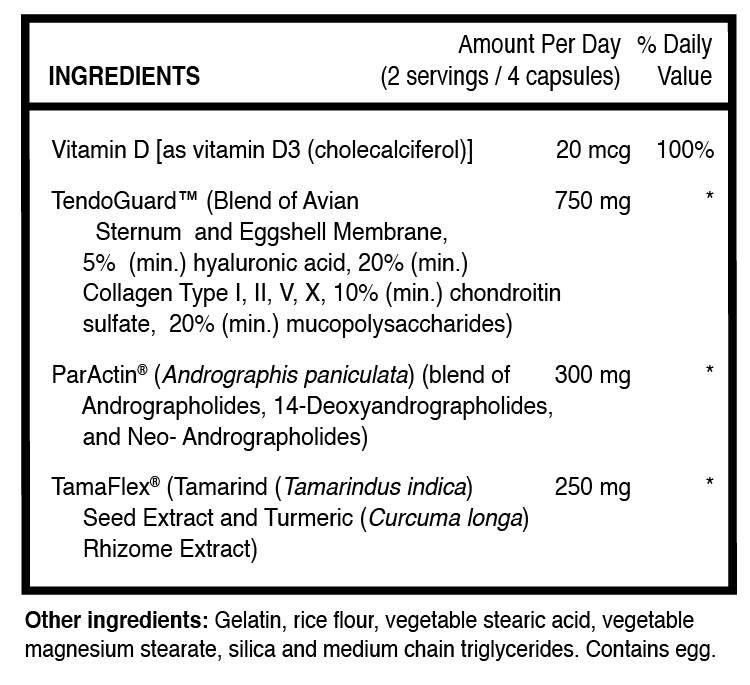 That's why at a minimum, it's wise to choose our 3 bottle "Good Value Deal", which will save you some money per bottle.  
However…it's a much better idea to just get the 6 bottle "Best Value Deal" and maximize your savings.
With the Best Value Deal, your per bottle price is $27.98… you save $6.99 per bottle.
And that's not all...
Under this limited time special offer, when you choose the Best Value Deal, you'll also get a 7th bottle of TrueJoint FLX™ for FREE!
That's a $34.97 value, yours FREE with the Best Value Deal.
When you include the 7th bottle you get for FREE, this lowers your overall bottle cost to just $23.98!
Given all the potency and ingredients in TrueJoint FLX™, that's an incredible bargain!
Plus, you get FREE Shipping and Handling – saving another $6.95.
When you add it all up, you save a total of $83.88!
It's definitely the way to go!
Not Only Do You Save a Whopping $83.88, You Don't Risk a Single Penny
Remember, if you're NOT delighted, you get a 100% refund. This money back guarantee is good for 1 full year.
You could use all 7 bottles of TrueJoint FLX™ and on the 364th day get every penny back.
Order now, or if you prefer, call us today at 800-771-2399 and we'll get your order on the way!
Act today and we'll get your TrueJoint FLX™ out to you right away!
Yours for Good Health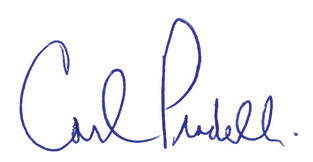 Carl Pradelli
    President & CEO